Over a million companies companies use Microsoft 365 worldwide. Its success is partially down to a pay-as-you-go-payment plan, intuitive interface, familiar Office apps, customizable features, and add-ins to suit any business needs.
If you are an individual or handful of employees with a standard license, then your costs are most likely to be as they seem, but even this will change on April 1st 2023 as overall prices increase.
However, if you are working in a larger organization – or growing – then this blog post will explain the many possible hidden costs of Microsoft 365 and how you can keep Microsoft 365 at a reasonable operating expenditure (OpEx).
The actual cost of suboptimal Microsoft 365 use
When looking to implement any software, your organization will assess cost-effectiveness – weighing up the value it brings to the company against the budget you will spend on the licensing, upkeep, and resources to maintain it. Let's look at some of those areas in more detail.
Payment and licensing flexibility
Flexible licensing and the option to pay-per-month or annually on a pay-as-you-go basis per employee means admins can get new starters up and running immediately and departing user accounts can be 'shut off' to avoid extra Microsoft 365 costs.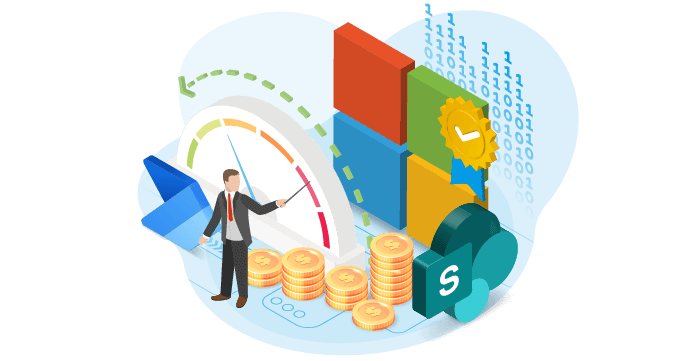 Furthermore, you can move licenses around. An employee who only works on internal projects might need a standard Microsoft 365 Enterprise (E3) license. Conversely, a user who interacts with external collaborators and customers will be better suited for an E5 license that provides far greater protection from cybersecurity risks.
However, for larger or growing organizations, it can be difficult to keep track of assigned licenses. An employee can easily have an unused E3 license on their account. It may be easy to spot and remove for one person. But for large companies that blanket-upgrade lots of employees at once, these duplicate licenses could be racking up quite substantial hidden costs.
Simply redistributing and cleaning up these licenses using third-party automation software can keep the running costs per user optimal and you could receive an instant (Return on Investment) ROI on third-party software costs used to solve this problem.
Licensing changes
Many of Microsoft 365's apps are at the forefront of corporate technology, and to stay there, they must be updated regularly. Updates can sometimes come with a change to your billing.
While Microsoft are transparent about changes to their billing, if you don't know which licenses are active for all your employees, you may receive a higher subscription cost than you were expecting. Staying on top of licenses by using a visibility tool will help you to keep costs manageable during licensing changes.
Unused features
Like licenses, if you are paying for something, you want to get the most from it. Focusing on Microsoft 365 adoption is crucial. Organizations often find that user adoption is high for the core of well-known, familiar Apps such as the Office Suite, Teams, Outlook, and OneDrive. However, they also find adoption remains low for the wide range of other apps included within the Microsoft 365 productivity suite.
Encouraging a higher uptake of these apps would mean your employees get more value from the software your organization is paying for. For example, one of the most underused apps is Microsoft Stream.
Stream acts as a type of internal YouTube platform for your company's video content. You can upload content, set permissions for certain groups, and it even allows you to assign videos to specific employees for set projects. This is ideal for companies that use pre-recorded sales pitches and product demos and could save the burden on video departments for content that already exists.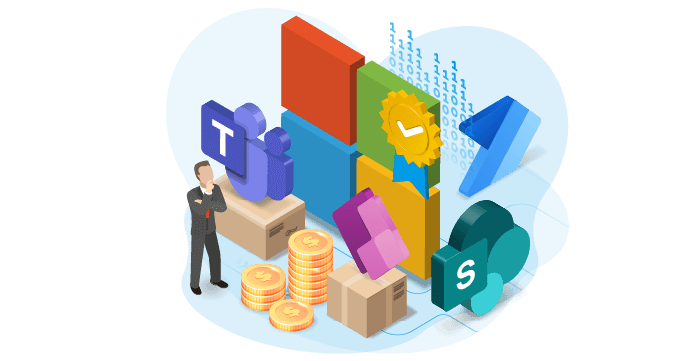 Making sure your company makes the most of Microsoft 365 will increase its value for money. Some organizations develop adoption strategies to help their employees make the most of their licenses. But to create an adoption strategy, you need to know who is using what, which can be difficult without a third-party visibility tool.
Spiraling storage
The maintenance and upkeep of physical storage is no longer a cost issue anymore – it is just part of your subscription with tariffs for varied sizes of storage. However, when you have too many files, you do not receive an error warning and must either upgrade to a higher storage capacity or start deleting files.
Storing data can also be costly beyond storage cost. Implementing security and access management, including MFA, is essential. Furthermore, if data protection policies such as GDPR and CCPA are violated, expect penalty fees, too.
Identifying OneDrive storage limits and automating actions can prevent folder synchronization issues and ticket requests, freeing up time staffing the IT helpdesk and reducing further costs.
Integrate third-party software to keep all Microsoft 365 running costs optimal
The most effective third-party software will centralize all Microsoft 365 data in one place, provide enough automation to simplify and scale as your organization grows, and deliver an overall significant ROI on both the tool and the Microsoft 365 service itself.
Rencore Governance is a fully equipped Microsoft 365 governance tool. It pulls insights from across Microsoft 365, not only to cut spending but to maintain security, reduce cluttering and cloud sprawl, and generally keep your company's Microsoft 365 paltform in check.
It is a fast-track way of saving money, time, and energy with Microsoft 365.
For further learning on trimming Microsoft 365 costs, download our free whitepaper: The ultimate guide to optimizing your Microsoft 365 costs.