Good governance is essential to the security, compliance, and effective management of your organization's digital assets. In a recent webinar with fellow Microsoft MVP, Stacy Deere, we walked through examples of real-world Microsoft 365 governance, with Stacy providing examples of customer pitfalls and successes around five key areas. I also shared how Rencore Governance provides the necessary tools and capabilities to streamline governance processes, automate tasks, and maintain a proactive approach to Microsoft 365 governance.
By leveraging Rencore's comprehensive features, customers, consulting partners, and managed service providers (MSPs) can empower their organizations to achieve robust governance across their Microsoft 365, Azure, Dynamics 365, and Power Platform environments.
What is Real-World Governance?
In the realm of Microsoft collaboration, governance plays a vital role. However, many organizations tend to overlook governance until a problem arises. It is crucial to proactively understand and outline the constraints of your environment, including policies, regulations, and desired outcomes. Whether through a formal process or an informal collaboration among stakeholders, regular governance reviews and oversight of your systems and data are essential.
A common mistake that organizations make is thinking that because Microsoft develops tools and platforms that meet a number of security and compliance standards that their deployment of those Microsoft tools and platforms somehow makes them secure and compliant. Relying on the compliance of Microsoft does not guarantee that your organization is fully compliant.
Real-world governance requires audits, assessments, and a regular dialog across the various business and technical stakeholders.
Taking Control
Here are five of the most critical areas to focus your Microsoft 365 governance efforts, and how Rencore can help you to be secure, compliant, and efficiently managed:
Run regular audits and assessments
Governance is an iterative process. You are continually assessing and learning about your environment, modifying your governance strategy as it grows and as user behaviors change.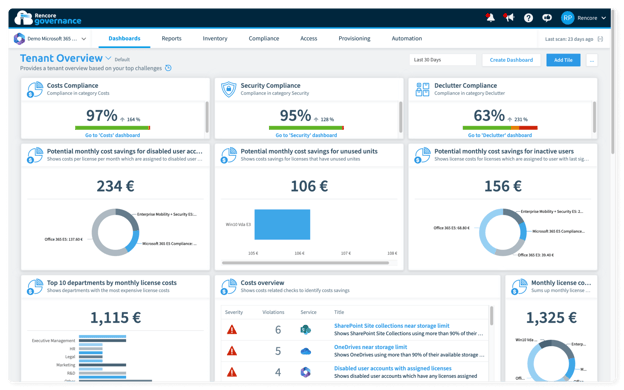 Rencore Governance provides a comprehensive overview of your Microsoft 365 environment by connecting to your services and consolidating the information into one central portal. By monitoring your environment, Rencore generates detailed and actionable reports and dashboards that offer timely insights to all stakeholders involved.
Create a Power Platform strategy
Power Apps and Power Automate are powerful tools within the Power Platform suite. However, creating solutions without a framework to monitor and review these solutions can lead to long-term problems, such as a failure to implement proper lifecycle management policies or to manage the premium licenses to create these automations. Rencore helps you audit, assess, report on, and automate the management of Power Apps and Power Automate. It can work seamlessly with Microsoft's Center of Excellence (CoE) or serve as a standalone product to ensure robust governance.
Regularly review and adjust your policies
As organizations grow, managing inactive teams and groups, cleaning up unused accounts, and identifying unknown publicly shared content becomes increasingly challenging. Rencore simplifies this process by providing out-of-the-box actionable dashboards and reports. It also offers hundreds of pre-built policy templates and automations, allowing you to monitor and review your environment on a regular schedule. Moreover, you have the flexibility to modify existing components or create new reports, policies, or automations on the fly.
Automate processes, starting with provisioning
Instead of allowing end users to create anything, anywhere, provide your organization with guardrails in place. To ensure consistency and standardization, Rencore allows you to create reusable templates for Teams and SharePoint deployments.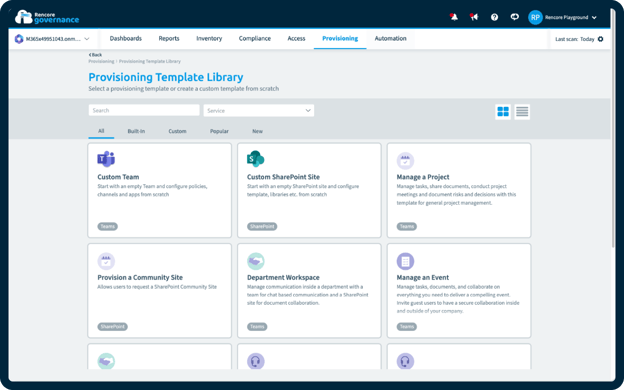 With standardized templates, approval processes, and lifecycle management, you can automate your provisioning process. This streamlines operations and improves efficiency while ensuring adherence to governance policies.
Rencore Governance empowers you to scale your governance approach across various Microsoft services, including Microsoft 365, Microsoft Teams, SharePoint, OneDrive, Azure, Exchange, Viva Engage, and the Power Platform. By monitoring end-user activity and identifying deviations from best practices, you can take quick action to create and enforce policies, manage permissions and licensing costs, and protect your data.
Conclusion
Rencore Governance serves as an incredibly powerful tool for customers and partners seeking to automate Microsoft 365 governance processes. Be sure to watch the on-demand recording of our most recent webinar "5 Strategies for Conquering M365 Governance" and then sign up for our free trial!