Hi, everyone! It's time for yet another Microsoft major conference recap! I've done this a few times previously, and I'm stoked that I get to do this for Ignite 2021 now. As you might recall, Ignite has traditionally been organized during autumn. Perhaps another Ignite will happen later in 2021, but for now, we have something to fill our evenings while Build is still to be announced.
First things first – Book of News for Ignite 2021 is available now. Go get it, it has all the relevant links for you to ingest during the week. I did read it through, and there are plenty of great announcements this time around.
I think we are all getting used to attending these large virtual events from the comfort of our homes. Still, I do miss the excitement that is so tangible in a packed keynote hall, and the moment when the lights go out and the intro music starts playing. Let's make the best of this for now, and hopefully, sometime in the future, we get to meet each other again in person!
You can view all Ignite sessions here.
Satya Nadella's keynote
At 8.00 am PST (18:00 EET for those of us living in the EU) we'll get started. Nadella's keynote kicks off at 8.30 am PST (18:30 EET), and this time it's scheduled to run for 75 minutes. I'm sitting comfortably in my home offce, I've dedicated one display to show Ignite content, and a few others to dig additional information based on the announcements during the keynote. This will be a busy two hours for sure!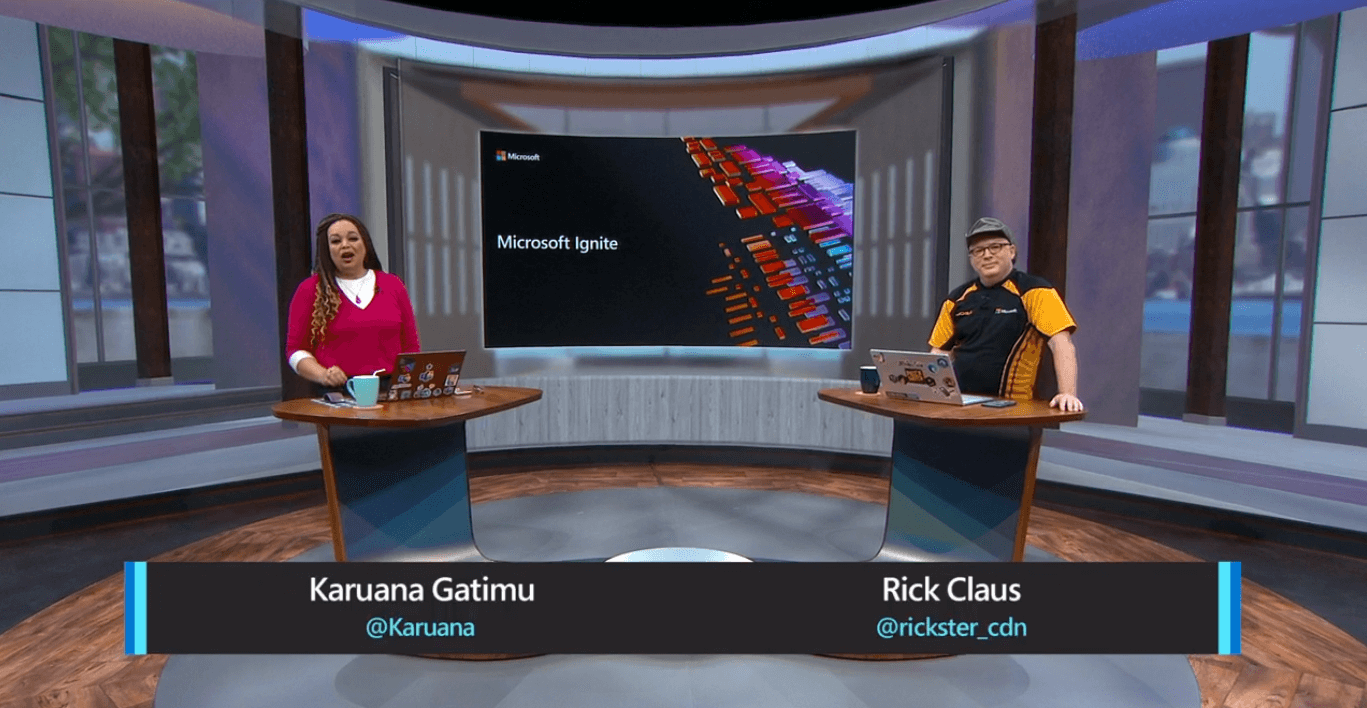 Karuana Gatimu and Rick Claus to kick off the event. I'm sipping tea – someone mentioned it's important to stay hydrated.
And here we go, Satya Nadella is live – I think in his spacious living room.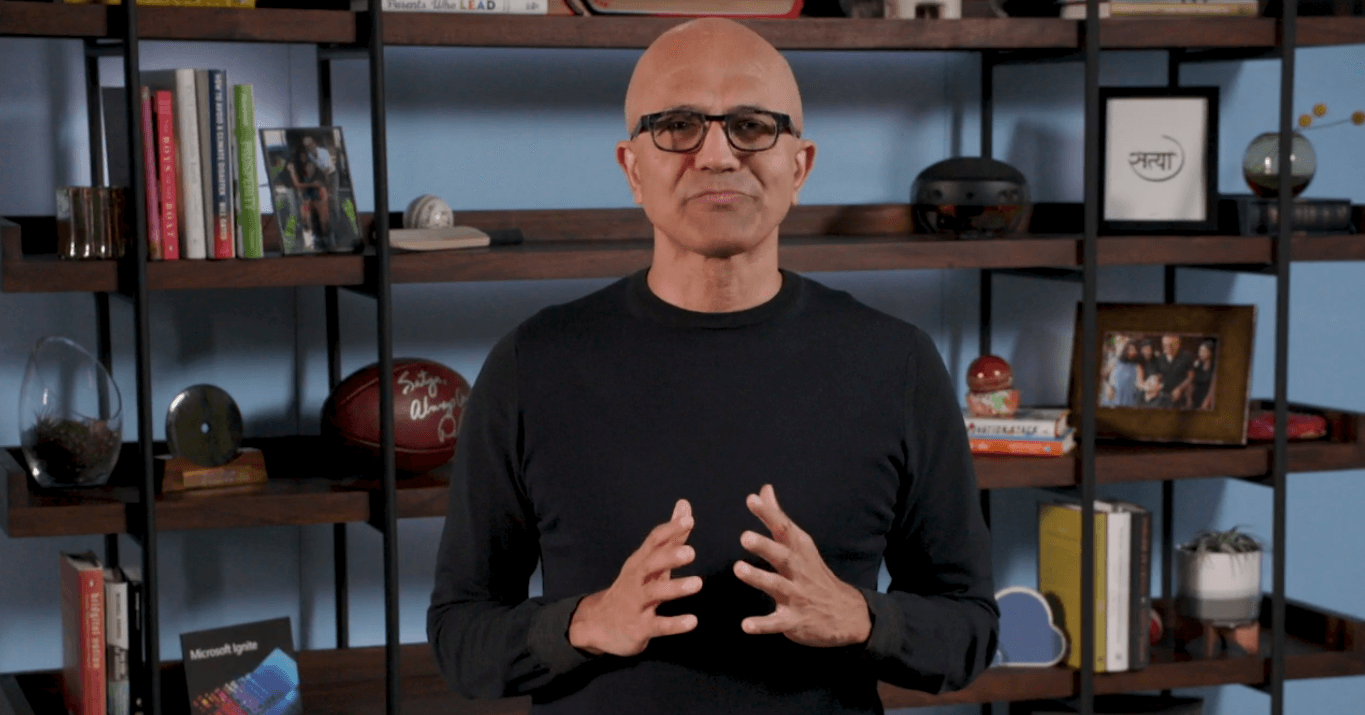 First, setting the vision for the next decade with the cloud.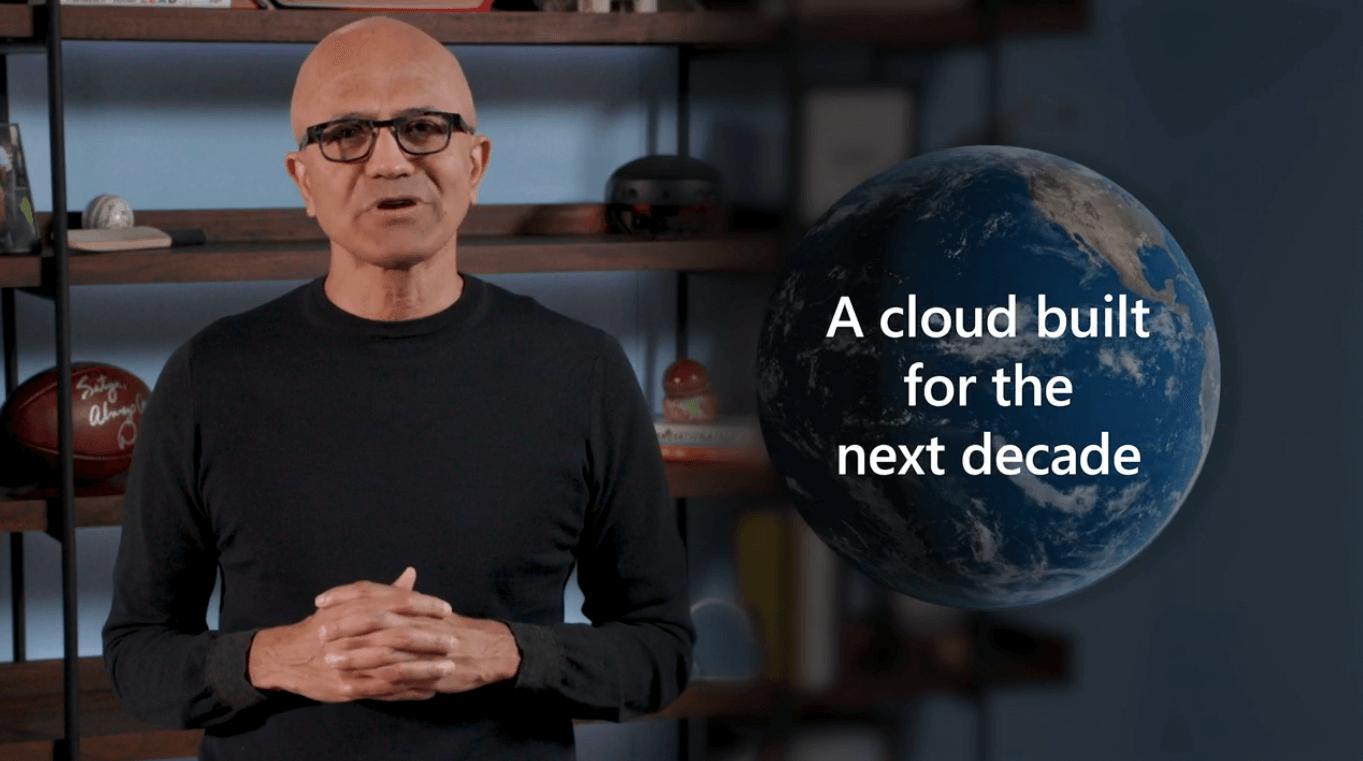 It's about ubiquitous and decentralized computing – as opposed to centralized computing, that it quite often still is. Next, it's sovereign data and ambient intelligence. Keep in mind that this is the vision, so perhaps we'll revisit these topics in 2030 to see how well they landed. Empowering creators and communities, thus democratizing creation. I feel everyone can create already, but obviously, it isn't democratized enough yet. Fourth in the vision for the next decade is economic opportunity for the global workforce. A slight poke at AWS on ethical principles is the fifth.
And these five pillars map to tech intensity, the phrase we've seen for about a year now during these keynotes.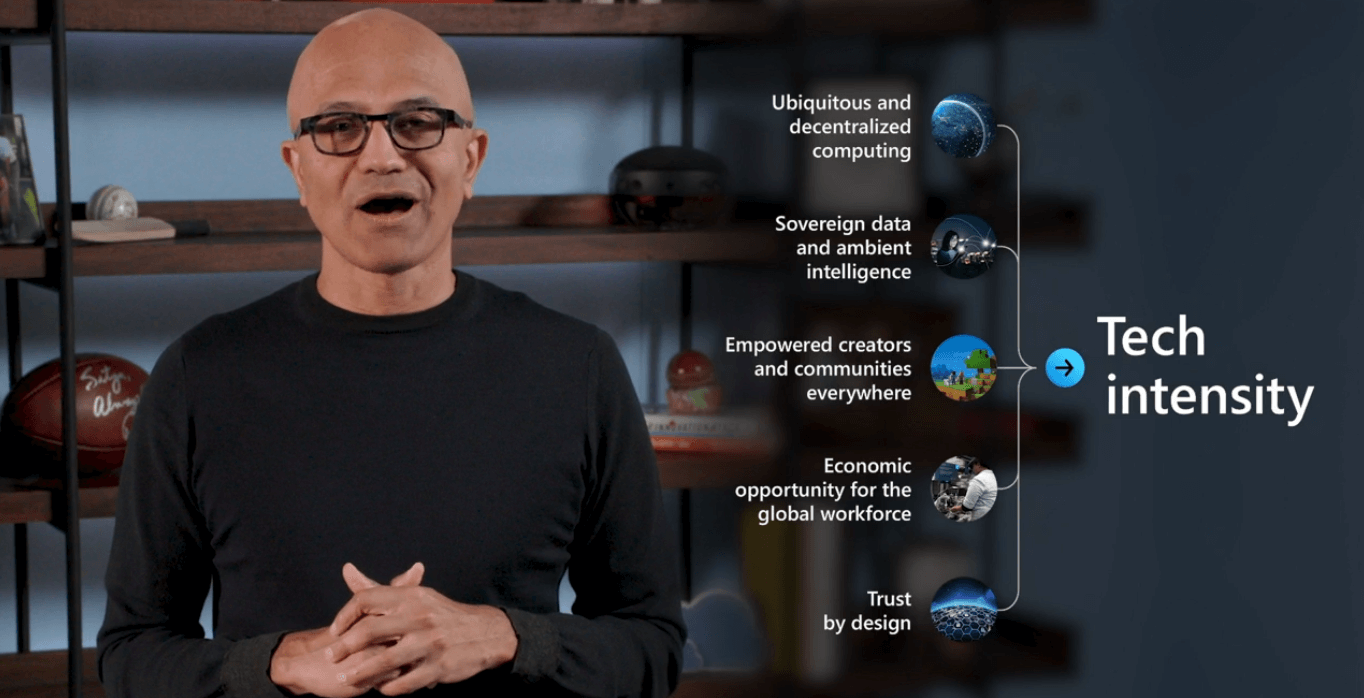 I love that Microsoft is prepared to hammer down the message year after year – repetition for sure, but each time with a new angle.
Teams is strongly highlighted, and admittedly, it's the "Outlook of 2020", and the key productivity tool in Microsoft's vision for digital transformation. I try not to sound like a management consultant here.
A few customer cases are highlighted. I'm never entirely sure if these are useful or not without knowing the full data on how things were built. Mixed Reality and HoloLens mentioned. Also, Microsoft Mesh announced – a new MR platform. See The Verge's article here. It will be interesting to see how this will pick up. With MR, I feel it was rapidly reduced to be used in specific industries, and very little true demand was seen in 2018 and 2019.
Alex Kipman to show Microsoft Mesh next.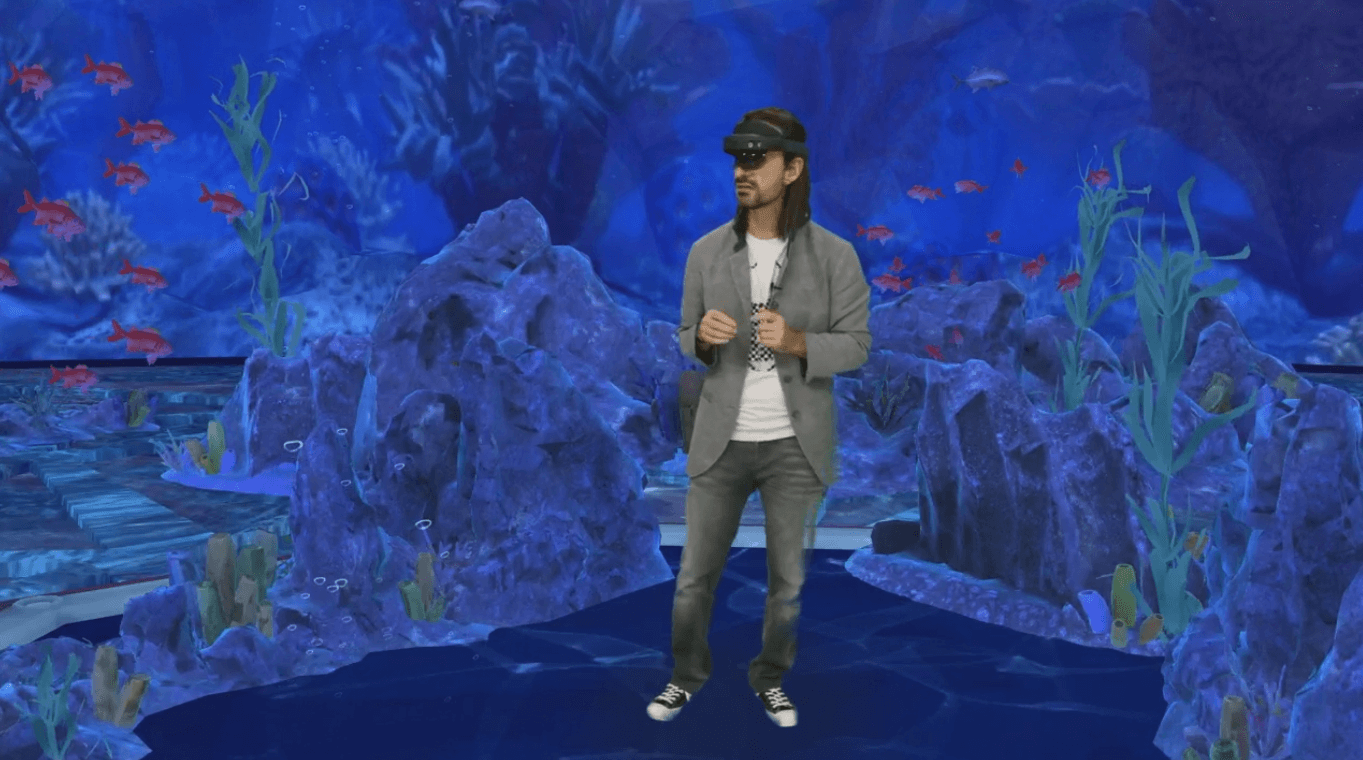 Microsoft Mesh is powered by Azure – see the technical overview here. It's supported on the usual devices, but also on phones and tablets. See also the Microsoft Mechanics video on Microsoft Mesh.

Public Preview of Azure Object Anchors announced, and general availability of Remote Rendering. A significant portion of this keynote is reserved for Microsoft Mesh – yet, it's super high level.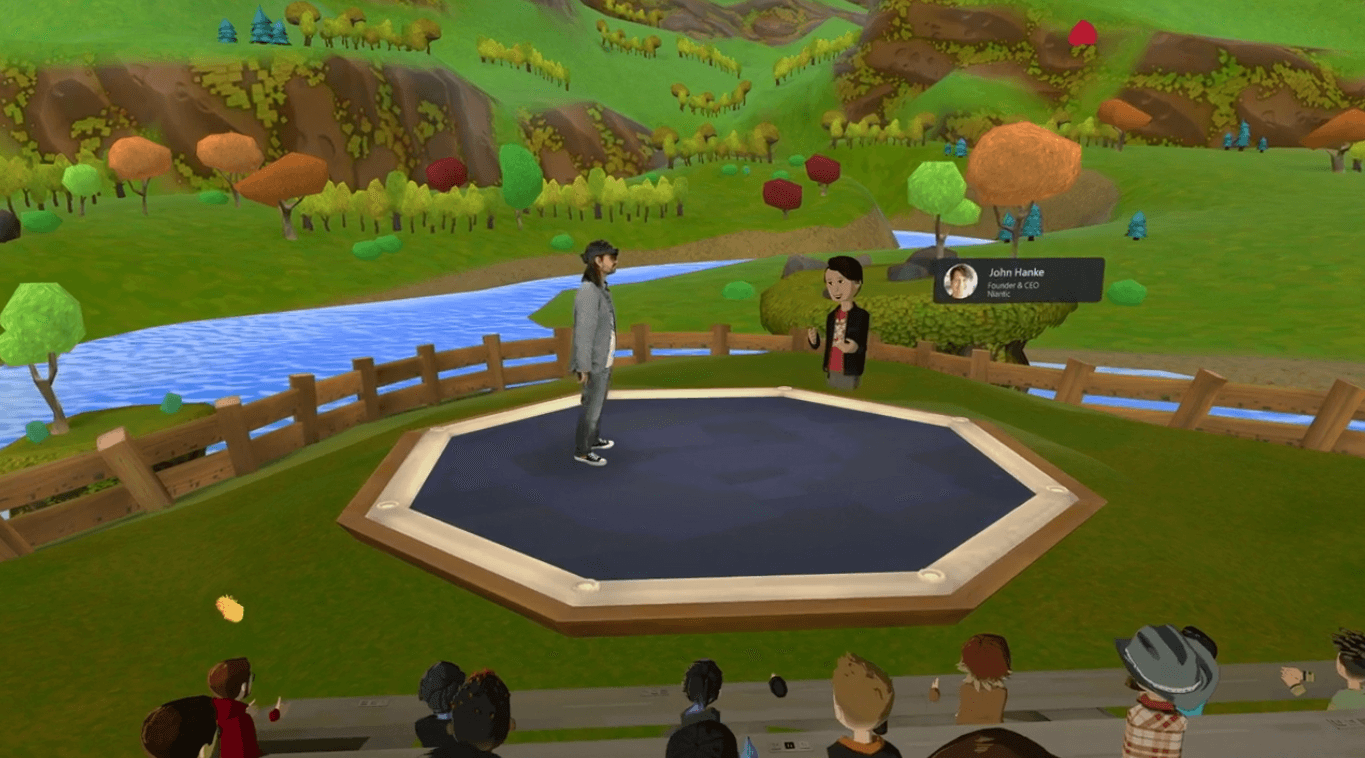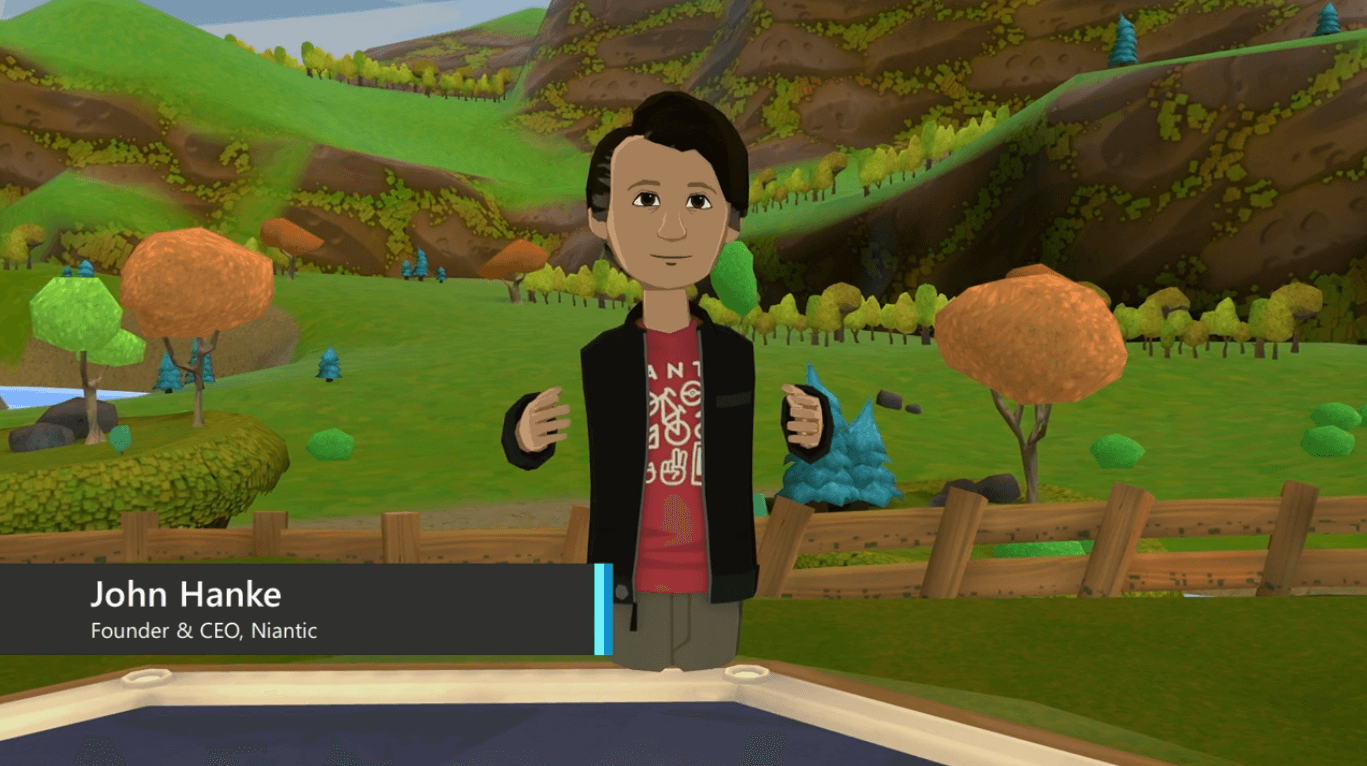 It looks very game-like, and perhaps that is the intention for now. A brief Pokemon Go demo is shown, and it's slightly awkward.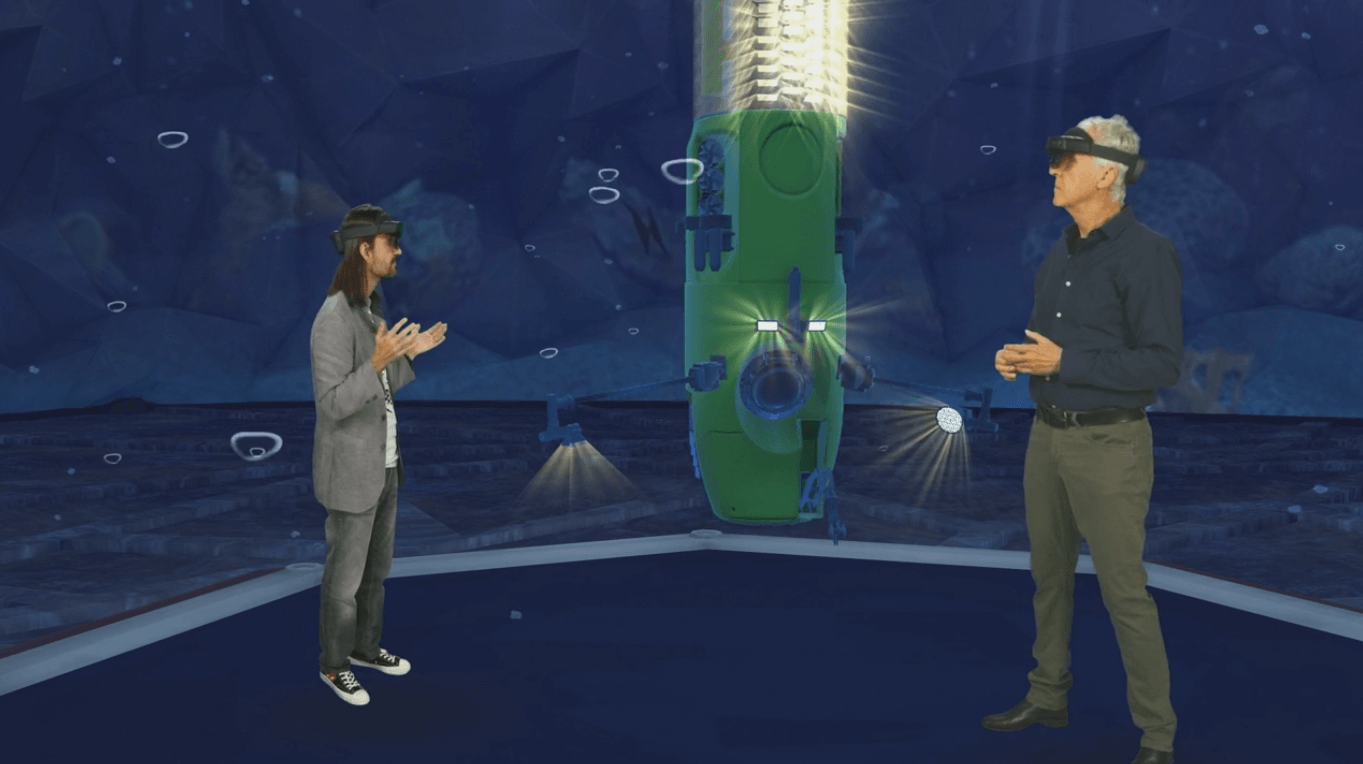 James Cameron on stage now.
Now, moving forward. Still remaining in the MR/AR and Microsoft Mesh theme.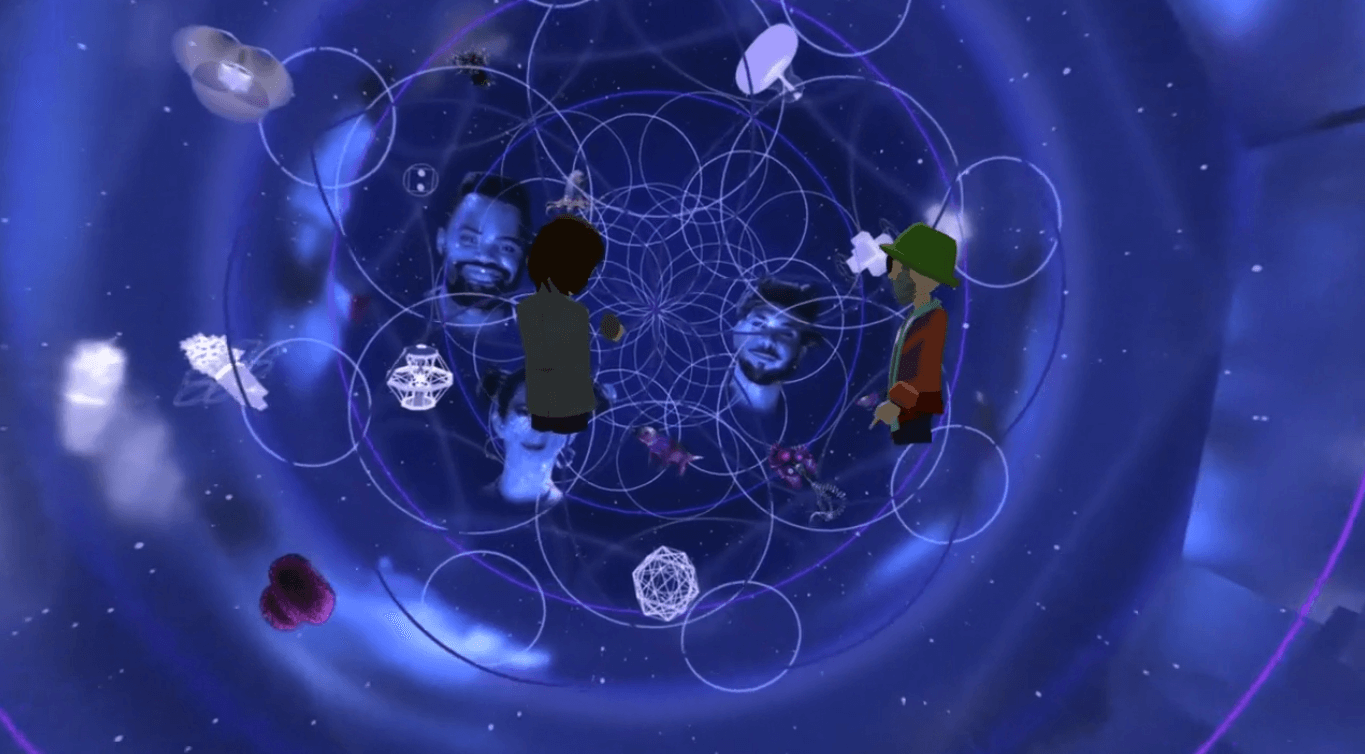 I guess that was a loading screen.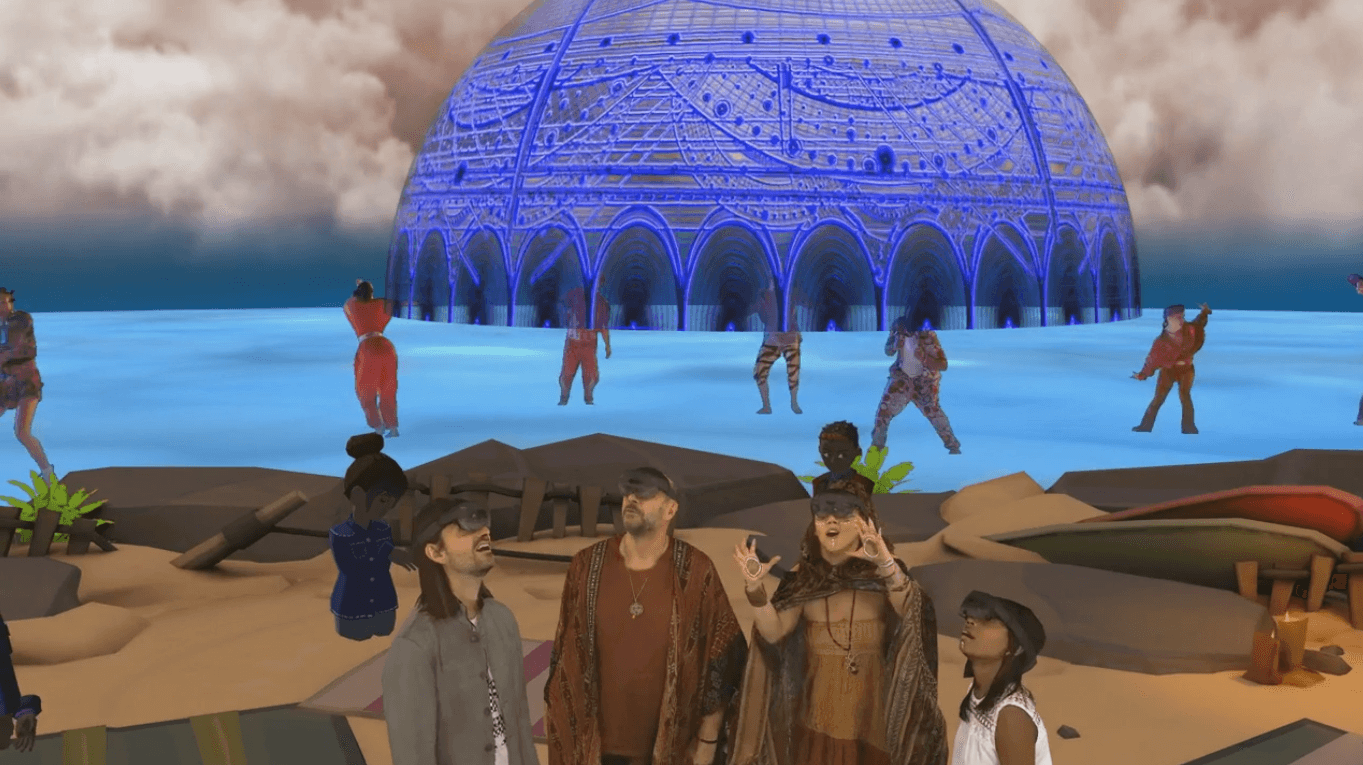 And this is some sort of an MR experience.
And we're done with this keynote! Thanks for reading – more updates following 🙂
The Hybrid Workplace Keynote
After a short break (more tea!), it's time for Jared Spataro's keynote.

This will be a 30-minute one, so let's get comfortable. It's certainly a different type of session – more scripted if you will. Some statistics for starters.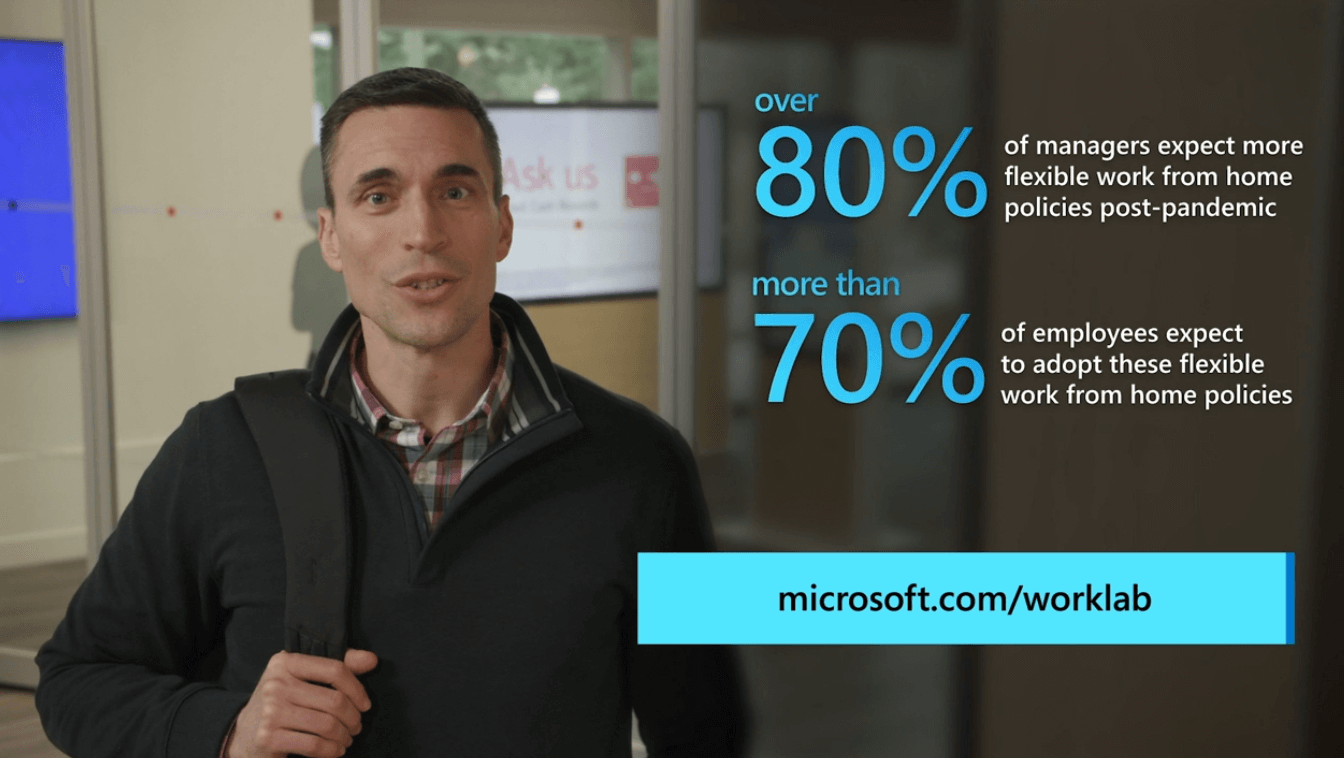 During 2020, over 100 new features were introduced to Teams. Teams Connect mentioned. It's a feature allowing you to share channels (not the whole teams) with internal or external people. Other new Teams capabilities shown, such as the more dynamic presenter views.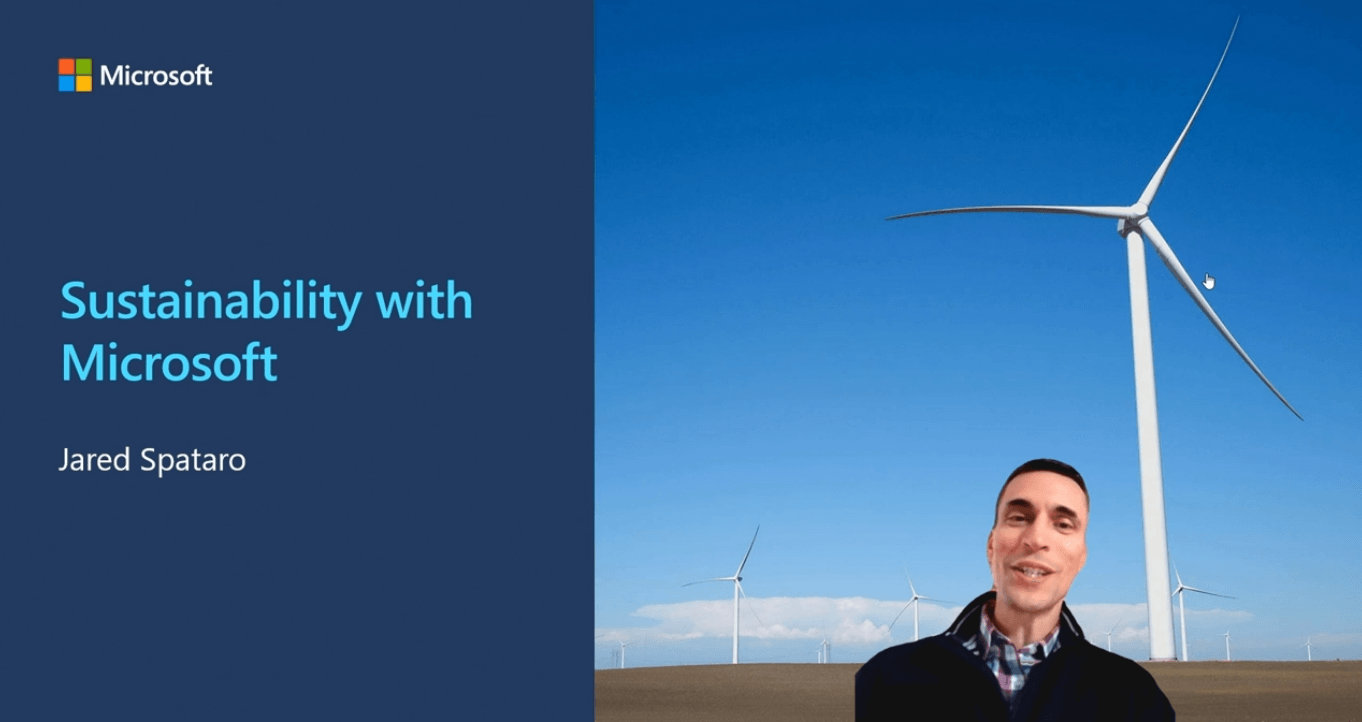 AI-powered speakers for Teams shown – these are called Microsoft Teams Intelligent speakers. Initially available from Yealink and EPOS – I couldn't find a working link just yet for any of these to verify pricing or availability.

Meetings next. Perhaps we'll eliminate "can you see my screen?" and, "I think you're on mute" soon enough. Updates include Presenter mode, Dynamic view, and PowerPoint Live for Teams.
And that was it! This was short – just 15 minutes!
Security for All keynote with Vasu Jakkal
No break either, so we hop straight to the security keynote now.

A few clips are inserted from another interview. This is challenging to follow, and I was perhaps expecting more practical content for security.


It is sort of security basics now, and I guess many IT Pros are reaching for their cups of coffee and tea right now, and thinking "when do we get to the actual stuff."
Azure Temporary Access Pass is mentioned, it's in preview now. Azure Sentinel gets 30 new connectors, such as Salesforce.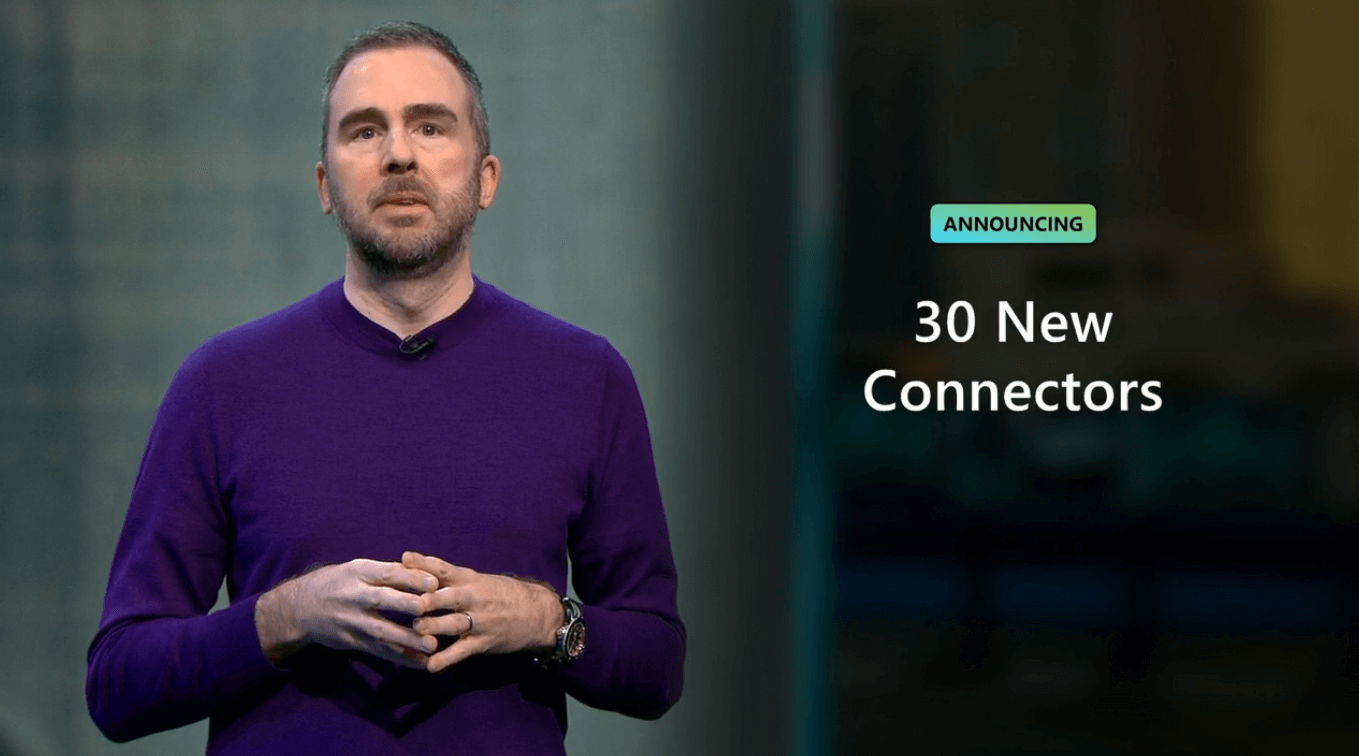 Last but not least – new Threat Analytics is being launched. See technical documentation here.

Co-authoring with MIP announced.

Azure Purview gets support for AWS for scanning data and documents. Insider Risk Management Analytics also announced, see video here, and details here.
And this concludes the security keynote. It sort of segues to the interview mentioned previously.
Envisioning Tomorrow keynote
The last keynote of the day will focus on AI and innovation.

First demo on using AI to 'understand' a movie. Avengers: Endgame, more specifically.

A super neat application where you can fly a virtual drone during the presentation is shown. Using the mouse, I can fly the drone around.

I'm quite certain this has nothing to do with AI, but it's still a fun way to involve the audience. Project Origin is mentioned, I found this MSR site for it.
And this concludes the keynotes for Ignite 2021 day 1! Thanks for reading, and happy learning 🙂
Additional reading and interesting resources