In a continuously evolving digital-first business landscape, the Microsoft 365 ecosystem has proven to be an integral component of efficient collaboration and productivity. To harness the full potential of this suite, organizations need to adopt robust mechanisms to track and gauge digital productivity. This article will shed light on five critical areas to focus on, including capitalizing on adoption scores, administrative reports, analytic tools, collaboration data insights, and prepping for AI features.
In a recent webinar hosted by our own Ragnar Heil, we outlined the 5 primary out-of-the-box methods for tracking and measuring productivity and adoption within Microsoft 365, and how Rencore Governance complements and extends these capabilities. If you missed the webinar, here's what was covered:
What is productivity?
From the Microsoft New Future of Work Report:
Productivity cannot be reduced to a single dimension (or metric), so frameworks include multiple dimensions. Performance/Outcomes, Collaboration, and Efficiency are examples of potential dimensions to consider.
Productivity is something that happens over time, and choosing a specific time interval is yet another dimension.
Managers are more likely to define productivity as outcomes, and individual contributors are more likely to define productivity as output.
One broader definition of productivity that has been proposed emphasizes several new dimensions in addition to what is typically considered by managers: well-being, collaboration, and innovation.
When we refer to 'workplace productivity', we're essentially discussing the proficiency and efficacy with which a team or individual accomplishes their tasks. It's primarily concerned with the efficient and effective completion of tasks.
Consider it this way: if you can generate superior-quality work within a shorter time span, that exemplifies productivity. And when productivity escalates, it often translates into increased profits and expansion for the organization.
Given the multitude of definitions, many of which can be highly subjective, numerous organizations are coming to the understanding that one of the most effective ways to monitor and evaluate productivity is by promoting the comprehensive utilization of their communication and collaboration technology among individuals, teams, and the company as a whole.
For many organizations, including Microsoft, the idea of Productivity equates to Adoption. This makes a lot of sense as organizations that excel in collaboration and communication have a significant productivity edge over their counterparts. Strong adoption invariably results in increased levels of output and innovation.
How does Microsoft measure productivity?
Let's look at the 5 primary methods for tracking and measuring productivity and adoption within the Microsoft ecosystem today:
The Microsoft Adoption Score
Previously recognized as the Microsoft Productivity Score, the Microsoft Adoption Score provides an all-encompassing perspective on how your enterprise is utilizing Microsoft 365. This measure sheds light on individual tool usage, collaboration patterns, and technology adoption rates. It assists in identifying technological utilization gaps, thereby allowing the creation of tailored training and enhancement programs.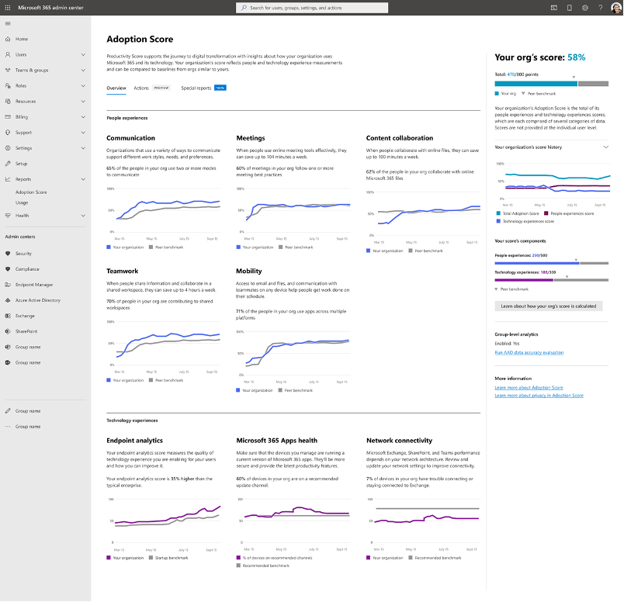 The Adoption Score provides an important baseline for your organization, with Microsoft showing your score against similarly sized organizations. It quantifies how the organization works using Microsoft 365 categories like content collaboration, mobility, communication, meetings, and teamwork. It also tracks the performance and health of your hardware and software, and overall network architecture. You can utilize this score to achieve a comprehensive view of your enterprise's productivity and to highlight areas for further investigation or enhancement.
Your Adoption Score is based on the combined scores of your people and technology experiences categories. Each category is weighed equally, with a total of 100 points. The highest possible Adoption Score is 800. Score categories include:
Communication (100 points)
Meetings (100 points)
Content collaboration (100 points)
Teamwork (100 points)
Mobility (100 points)
Endpoint analytics (100 points)
Network connectivity (100 points)
Microsoft 365 Apps Health (100 points)
M365 Reports within the Admin Center
The Microsoft 365 Admin Center hosts a variety of detailed reports that provide insights on diverse aspects of platform usage. Whether you aim to understand email traffic trends via Exchange reports, scrutinize document collaboration using SharePoint reports, or decode communication habits with Teams reports, the Admin Center is your one-stop solution. Regularly examining these reports can uncover important usage patterns, identify potential challenges, and guide future decisions regarding IT resources.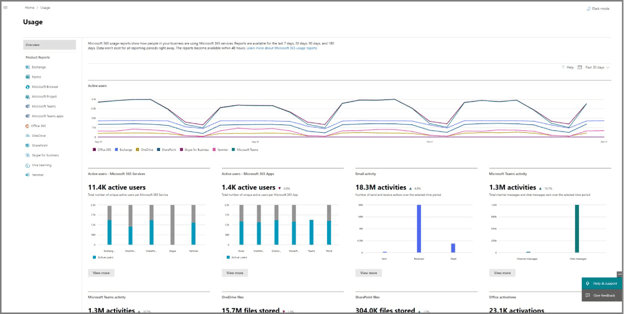 Remember that reports are limited to the last 7 days, 30 days, 90 days, and 180 days. Anything beyond this must be manually tracked. And also remember that data won't exist for all reporting periods right away. There is a time delay of 48 hours before reports become available to you.
PowerShell and Power BI Reporting
While Microsoft 365's inherent tools offer valuable insights, for a thorough and customizable analysis, resources like PowerShell and Power BI can be beneficial. PowerShell commands facilitate extraction of detailed data from Microsoft 365, while Power BI transforms this data into visually appealing reports and dashboards. This combination supports extensive analytics on user activity, data usage, and collaboration patterns, empowering you to delve deeper into productivity metrics and make data-informed decisions.
You can use PowerShell to manage Microsoft 365 to:
Reveal additional information that you can't see in the Microsoft 365 admin center
Configure features and settings only possible with PowerShell
Do bulk operations
Filter data
Print or save data
Manage across services
Viva Insights
Viva Insights provides data-driven, privacy-protected insights and recommendations that can assist individuals and teams in enhancing productivity and wellbeing. At a personal level, it offers advice on work habits, focused time, and maintaining a balanced work-life equation. At an organizational level, it presents trends on collaboration, workload allocation, and meeting culture. Employing Viva Insights enables a healthier, balanced, and ultimately more productive digital workplace.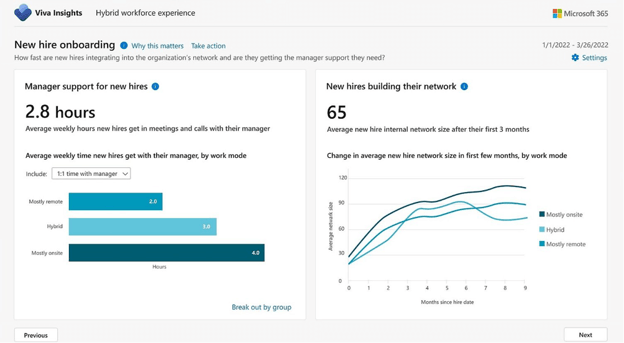 Advanced insights can empower business leaders to address essential challenges concerning their organization's resilience and workplace environment. These insights can provide a clearer picture of how work impacts their teams and overall business outcomes. By pinpointing potential areas for process modifications, leaders can boost business performance and implement strategies to protect their employees' mental wellbeing.
Microsoft Copilot
Upcoming AI features like Microsoft Copilot are set to redefine digital productivity by offering proactive assistance based on user behavior and data patterns. However, to leverage these features to their fullest, organizations need to ensure their data is organized and accessible.
One best practice to prepare for Copilot is to introduce a robust data governance strategy, concentrating on data quality, consistency, and security. Good data practices today will position your organization to benefit from AI's transformative potential for digital productivity in the future.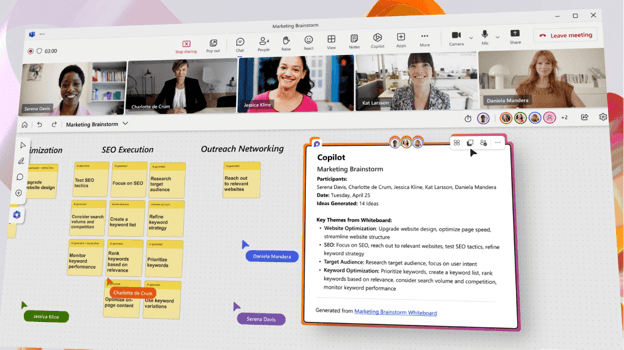 Copilot is designed to supercharge workforce productivity by managing basic tasks, assisting in content creation, and offering insights for further productivity improvements. Microsoft views Copilot as a tool that enables employees to swiftly handle simple tasks such as taking meeting notes, which can typically consume a significant amount of time. This, in turn, clears their schedule for more creative and fulfilling tasks.
Rencore Governance
Rencore Governance is a robust solution that amplifies cloud governance across a variety of Microsoft 365 services such as Microsoft Teams, SharePoint, OneDrive, Azure, Exchange, Viva Engage, and Power Platform. It allows you to more effectively and efficiently monitor end-user activity, discover deviations from best practices, and quickly take action to create and enforce policies, manage permissions and licensing costs, and protect your data.
The tool connects to your Microsoft 365 services and provides you with one central portal, giving you a comprehensive overview of what is happening in your environment. It creates an extensive inventory of data across a broad spectrum of services and applications, and offers a library of ready-made policies, reports, and automations tailored to address common scenarios related to adoption, security and compliance, and cost overrun.
Rencore Governance monitors your environment and distills the findings into detailed, actionable reports and dashboards providing you and all involved stakeholders with a timely overview.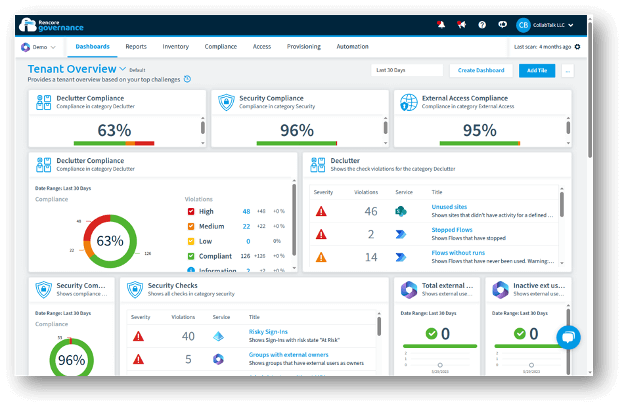 Most importantly, it helps you to scale your governance approach for Microsoft 365, Microsoft Teams, SharePoint, OneDrive, Azure, Exchange, Viva Engage, and Power Platform. Overall, Rencore is an incredibly powerful tool for customers and partners to automate Microsoft 365 governance.
Conclusion
By concentrating on productivity, organizations can tap into the full potential of the Microsoft 365 ecosystem and foster a culture of continuous improvement. In a digital-first era, understanding and enhancing digital productivity is not a luxury – it's a critical element of an organization's strategic arsenal. Tracking and gauging digital productivity is essential to remain adaptable, competitive, and future-proof our evolving business environment.
With Rencore Governance, stay in complete control and automate your Microsoft 365 governance.