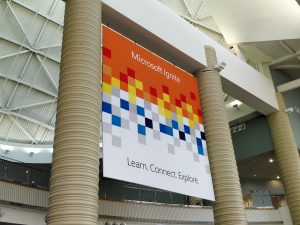 Hello from Ignite 2017, the biggest Microsoft event of the year! This time it's held in sunny and hot Orlando, Florida. Coming from Finland, and especially this time of the year I appreciate the warm breeze and humid evenings. Zero hurricanes also which I find a relief. I arrived to Ignite in Thursday to fight jetlag a bit more efficiently and I think I've succeeded quite well.
Ignite this year is over 24,000 attendees, and together with Microsoft Envision which takes place at the same time, it's closer to 29000 attendees. This means air conditioning is turned to 11, and it is chilly in the conference halls.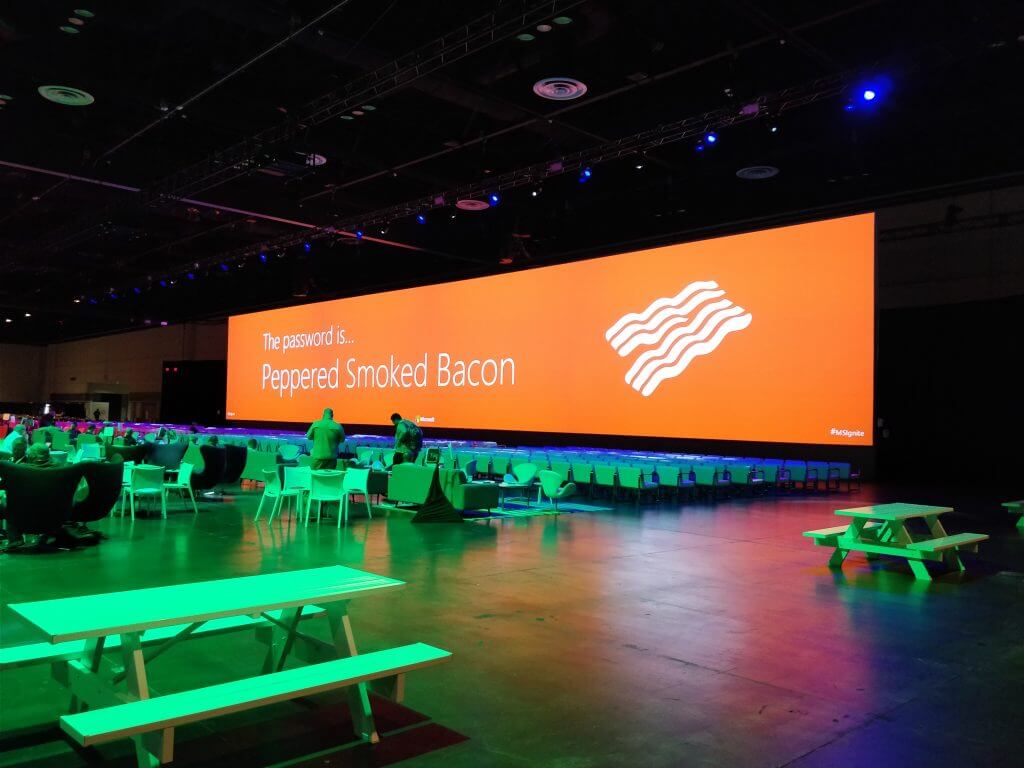 So far we've had one full pre-day yesterday on Sunday, and today we are getting 4 keynotes – the first one is led by Satya Nadella, and then three smaller keynotes on specific topics such as Microsoft 365, Dynamics 365 and Microsoft Azure.
If you're attending Ignite come say hi, I'll be hanging around the Rencore booth #1645 at the Expo area this week. I hope they have swag to give out.
As is almost a tradition by now, I'll be recapping the main keynote in this blog post. My hope and goal is to capture all relevant product announcements, resources and things I feel might be useful for readers to learn. Below the keynote announcements of this blog post you'll find a categorized list of resources and links I'll gather during and after the keynote.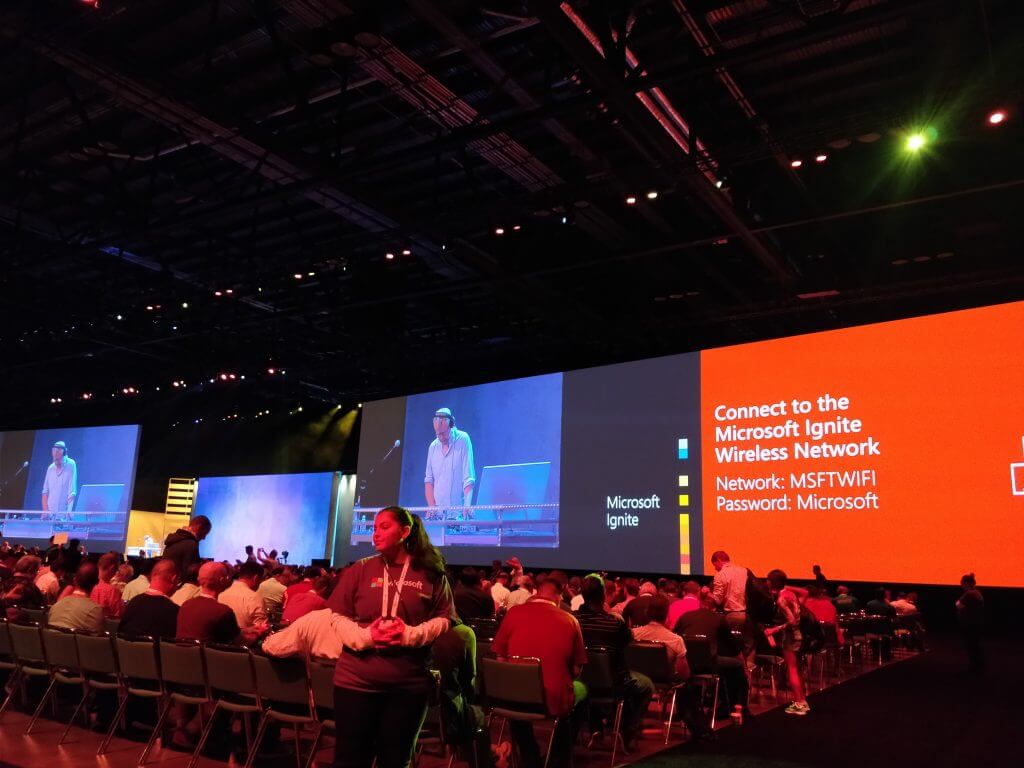 Big themes I'm anticipating this year are Microsoft 365, which was announced at Inspire this Summer. AI, together with Azure is of course a recurring theme.
Keynote
And here we go!
Julia White up first. I love her energy, and she seems like a speaker who truly enjoys being on the stage. After a few housekeeping items it's time for Satya Nadella. I love the outfit, impeccable style. Both Julia and Satya mention the relief efforts for the community after the hurricane damage.
Digital Transformation is a buzzword, and we're getting some further insights into Microsoft's vision on that. How do we drive the change? By
empowering people
using inclusive design
building trust in technology
The last one is a challenging topic – privacy, GDPR, trustworthiness – all these are very relevant discussions points for cloud services.
Intelligent Cloud and Intelligent Edge are the topics we had at Build, if I recall correctly. These are positioned as parts of the Digital Transformation (or "Digitalization" as I hear it often described in Europe).
Digital Transformation is about empowering employees, engaging customers, optimizing operations and transforming products. This is the process, and Microsoft seems to be going through the very same process together with customers and partners. These map to the following four solution areas:
Modern workplace
Business applications
Applications & infrastructure
Data & AI
These are the ingredients for partners and customers to drive digital transformation. We'll take a lap around these four areas, modern workplace up first!
Microsoft 365 is the new Office 365: a set of products that brings productivity with simplicity. Satya weaves Mixed Reality in this, together with collaboration. This is a very interesting proposition for the future and I can't wait to get my hands on the MR DevKits that are available now on the Microsoft Store. I just wish we wouldn't be getting yet another HoloLens demo, as it's been – I think – almost 2 years now with little progress with the actual device (or its price).
This time the HoloLens demo is with Ford, and the demo combines aspects from Teams for collaboration. Seems a bit far-reaching for today but I can see the point of this. It just feels we're simply not there yet, but I'm hoping this to rapidly change this October when the new MR kits are available for one tenth of the price of the original HoloLens (~$300-500).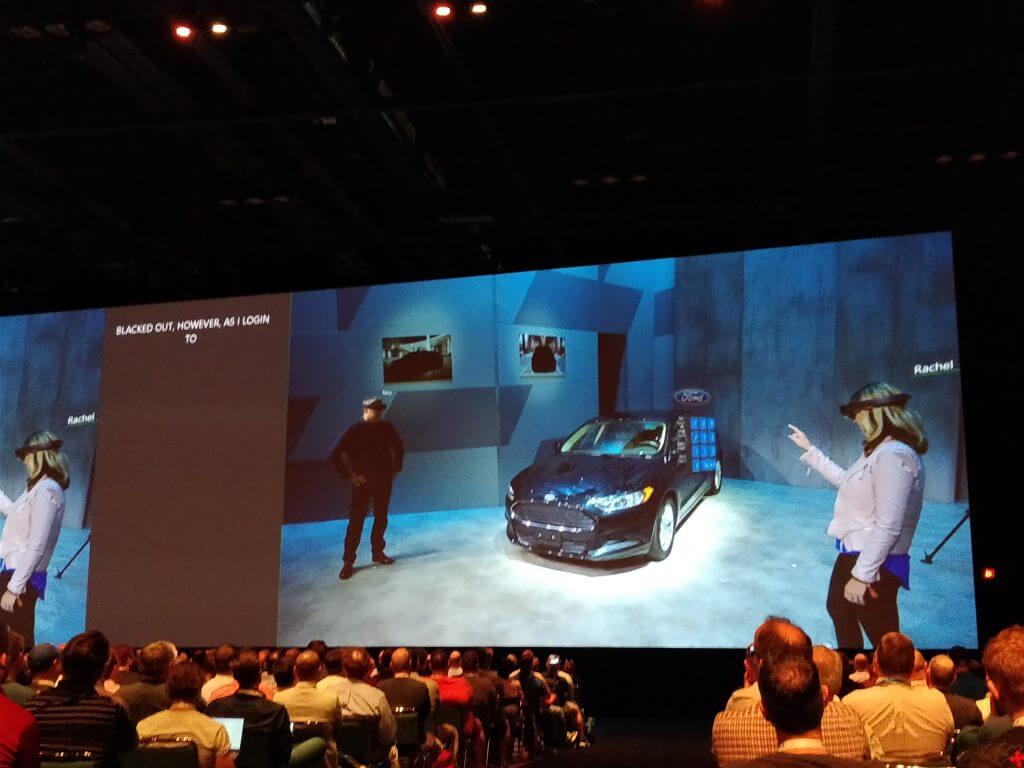 Moving on to Microsoft Graph which now supports LinkedIn-signals. This lights up your profile cards in Office 365 (and Microsoft 365 also). It's a small change but a huge productivity boost for users as you will get data populated automatically from LinkedIn to Outlook, SharePoint, Teams and other services.
Artificial Intelligence next.
Bing for Business is announced, which uses Microsoft Graph and AI to connect relevant contextual data from Office 365 and Bing searches. I'm not sure on the current market for Bing but this seems like a big thing for anyone using Bing today. First impression feels like hybrid search in SharePoint, where data from both on-premises and cloud resources can be embedded in the same search results list. Search is driven from Bing.com, and it surfaces data from your Office 365 tenant. Looks scary at first glimpse but very useful at the same time. The deep learning and Machine Learning aspects behind this seem very impressive but might not be available worldwide in the preview – at least that's my experience with Bing when using it outside US.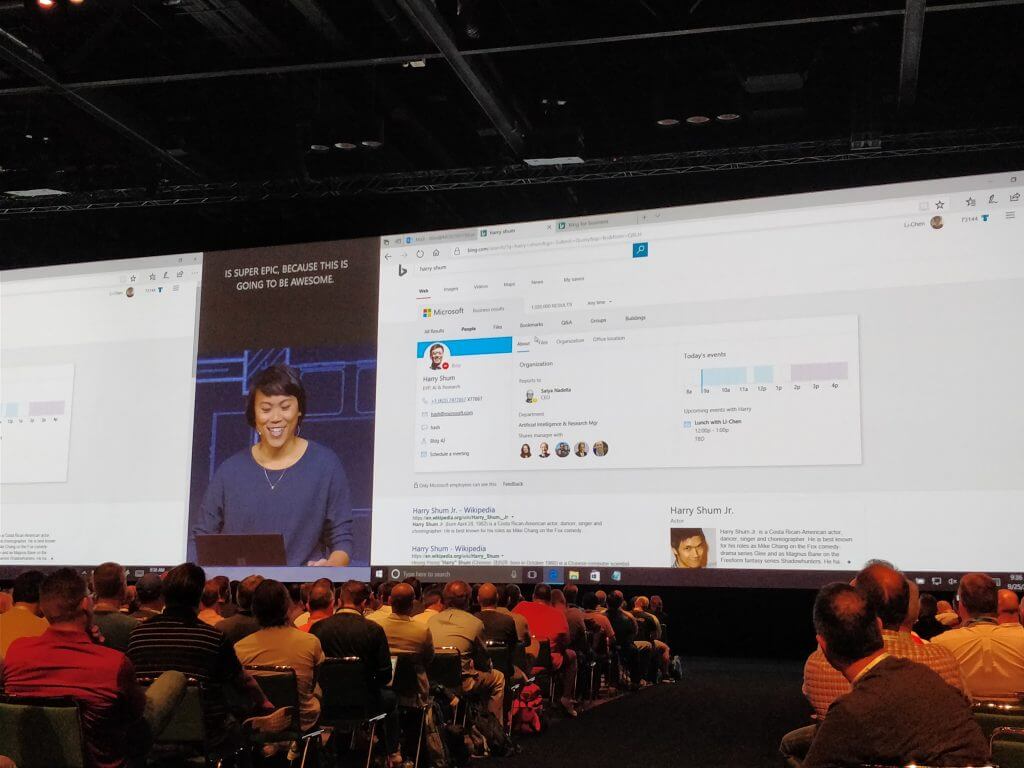 We also got a Cortana demo with what seemed like Harman Kardon Invoke model.
Moving back to Satya, and business applications (this is the second point of digital transformation). Dynamics 365 has the modularity and flexibility for digitalization and process automation. Once more, AI-First. We don't have cloud first/mobile first anymore, and I think it's a good time to move on but still very nascent times for AI in general.
We get a promo video on HP printers. No announcements but a solid reminder that Dynamics 365 is here to stay and it supports AI inherently.
Moving to apps & infrastructure – this is Microsoft Azure. As is customary, AI is the theme here. I saw someone mentioned MR-First on Twitter and this is really it. We got a plethora of showcases for companies using AI throughout the globe.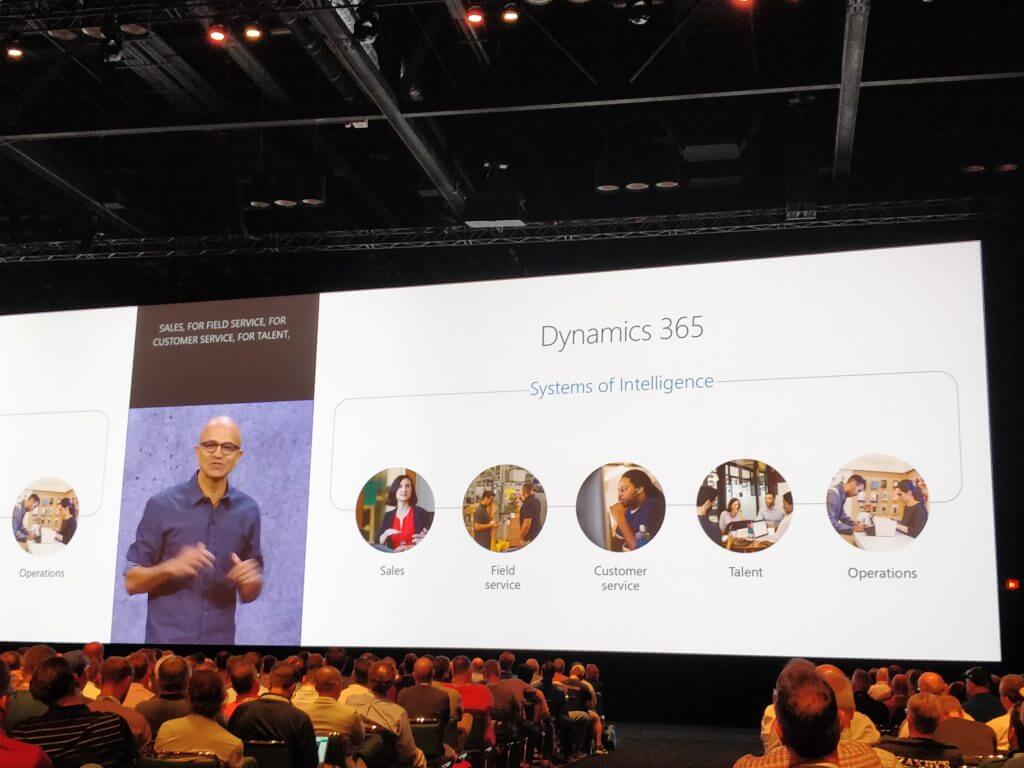 Quantum Computing. Even more "out there" but a bold goal nonetheless. This is really the 101 of Quantum Computing, which while interesting might still be something that a lot of the IT Pros and developers attending Ignite have no need yet. Next we get 4 scientists on stage to discuss Quantum Computing. I was a bit lost at this point but I understand that Microsoft wants to show that's it's thinking about the hard problems and finding solutions for them.
You can read more at microsoft.com/quantum, and sign up for a Quantum simulator and get the new programming language for Quantum projects that works with Visual Studio.
And that's it! This keynote was a bit shorter and less exciting than I anticipated. All major announcements are listed below, and I am sure we'll be getting even more announcements today and tomorrow in subsequent keynotes and sessions.
Thanks for reading!
Announcements during the event
Microsoft Azure
Azure Pass-Through Authentication is now generally available since being in Preview from the beginning of the year. This is an approach that allows you to perform authentication against on-premises Active Directory without the need to build a highly available ADFS-infrastructure. I've been using PTA since January and it's been great – while also providing Seamless Single Sign-on!
In June Microsoft acquired Cloudyn, and it's now being made available – free of charge – to all Azure subscriptions. This is a cost management solution that allows Azure admins to figure out where money is going and how to best optimize cost. More info on Azure Cost Management is here.
Azure File Sync Preview is announced. Kind of like StorSimple but with software – synchronizes files between on-premises Windows Servers and Azure File Shares.
Azure Service Fabric on Linux is generally available now. This is the microservices and orchestration platform, originally announced at Build.
Several Azure announcements in one blog post, which are new VM sizes (M-series, and the previously announced B-series), enterprise NFS service, Azure DDoS Protection Preview, Azure Data Box (to transfer large datasets to Azure) and Azure Migrate Service for migrating workloads to Azure.
Quantum programming language and Quantum simulator in Azure is made available.
Azure Stack is now shipping through hardware partners (Dell EMC, HPE, Lenovo).
Azure gets end-to-end monitoring updates, like unified overview. Several updates to Applications Insights also.
Three new Azure certification exams: Azure Stack (70-537), Linux Workloads on Azure (70-539) and Azure DevOps (70-538).
Windows, Windows Server and general IT Pro
Microsoft 365 & Dynamics 365
Microsoft 365 is expanding with Microsoft 365 Firstline (ex-Kiosk) offering and Microsoft 365 Education. Education includes Minecraft, which I think is logical for education. See more info here.
As something to entice customers to move to this new license offering that combines EM+S license, Windows 10 and Office 365 license, several hardware vendors are starting to offer new Windows 10 S devices – like the one Surface Laptop has. These are HP, Lenovo, Acer and Fujitsu and devices are starting at around ~275 USD. You can see the announcement here.
Power BI, BI and intelligence
Power BI Embedded capacity based SKUs are coming to Azure in October 2.
SQL Server 2017 is generally available! Simultaneously for Windows, Linux and Docker containers. A very in-depth review of SQL Server 2017 written by Andrew Brust is found here, and it's a great read if you're interested in the details of this new release.
And endless list of smaller updates, changes and new features for Power BI. Not really Ignite-specific but a monthly update, some features coming in October and others earlier.
Azure SQL Database has now 100 % compatibility with SQL Server.
Office, Office 365, SharePoint & productivity
Office 365 Group Naming Policies are announced, allowing us to have prefixed, suffixed and managed group names in Office 365 Groups.
Office 365 gets multi-geo, which allows companies to span Office 365 services across multipe datacenter geographies. This is still in preview, and requires one to contact the local Microsoft account team to apply for the preview.
LinkedIn data will be available in Office 365, initially for profile cards. The profiles in Office 365 are a bit of mess today and I'm hoping the LinkedIn-infused profile cards will be more relevant, updated and clearer to use throughout the set of services in Office 365. There's a setting in LinkedIn to disallow the use of your profile data in 3rd party services, which is nice for privacy-oriented people. This essentially combines Microsoft Graph and LinkedIn's own (internal) Graph-like service.
Office.com app launcher is refreshed. This was announced before Ignite keynote timeframe but I feel it's still fresh news and relevant here.
Yammer gets another vision for the future. In short, Yammer is the "outer loop" and Teams is the "inner loop". I think it's a nice way of putting the "when to use what" to a more relevant context. There's the next Desktop App (already released before Ignite), and several new additions to SharePoint + Yammer integration.
Flow gets several updates, such as deeper SharePoint integration with more column support in lists and streamlined collaboration within SharePoint.
Teams and Skype for Business. The new vision is called intelligent communications, and it's about Teams taking the front and center. Skype for Business is not dead, but very much positioned behind Teams in the future. In essence, Teams will drive intelligent communications, and Skype for Business v.Next will gain some Teams-related updates for hybrid purposes. As such, customers currently evaluating Teams might get much needed inspiration to move quicker, as the future of business meetings and calling is in Teams – not Skype for Business anymore. See the FastTrack portal for additional info.
Security
Intelligent Security Graph is announced. It's a set of services to protecting data and managing the security tool set in the cloud. It consists of a Security Intelligence Report, better data protection using Cloud App Security, a Compliance Manager (think: GDPR) and Azure Security Center updates.
Miscellaneous and other announcements I couldn't figure out where they belong
Bing for Business is announced. Available for private preview today. It uses AI and Microsoft Graph to deliver better and more contextual search results. Sign up here.