This is part 2 of our series looking at the insights from our State of SharePoint and Office 365 Development survey. Part 1 looked at the profile of respondents. A detailed report on the full results, along with our exclusive analysis, is coming soon.
When a company has a vision of how it wants to change the world, it has to be pretty ambitious. Microsoft CEO Satya Nadella has been speaking of a 'mobile first, cloud first' world for some time now, and Julia White, general product manager for Office, recently emphasized the firm's commitment to hybrid SharePoint. The focus on the cloud, on Office 365 and on providing Software as a Service has been the Microsoft mantra of recent years.
A cloud based world has a great appeal, yet what's the reality? Have businesses, IT departments and developers left their local servers on the junk heap? Is everyone dancing to Microsoft's tune?
Earlier this summer, we conducted a survey with over 1000 SharePoint community members to find out about the state of SharePoint and Office 365. The survey was the first of its kind and covered a wide range of topics. In this post we will look at how SharePoint is really being used in the workplace.
The scientific method
For those of us who work with SharePoint day in, day out, we often have a fairly decent idea of how the platform is being used. Nonetheless, extrapolating one's first hand experience to speak for the entire SharePoint and Office 365 community would not only be arrogant, it could have some serious consequences. We might assume one thing, but if the reality is quite different, the kinds of services, help and tools we provide could be completely irrelevant.
When we were constructing our survey, we came up with a series of hypotheses. If these were proven right, we could make generalizations about the community with a greater degree of confidence. Rather than just basing our knowledge on how SharePoint is used on gut instinct or anecdote, we'd have a reliable body of evidence to prove or disprove our assumptions.
So, how do we use SharePoint these days?
One of our major hypotheses was that there's a gap between how Microsoft would like people to be using their productivity tools and the reality. We therefore asked our respondents what version of SharePoint they were using in their organization. And here are the results: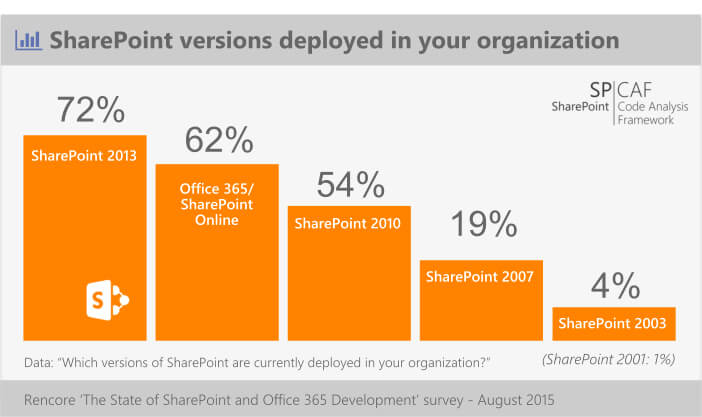 [bctt tweet=".@rencoreab survey 2015: 72% of organizations use #SharePoint 2013, compared to 62% using #Office365″]
As we predicted, there's a mismatch between the 'cloud first' approach which Microsoft envisions and the reality. SharePoint Server 2013 is still the most popular iteration of the software, but over 50% of respondents were still using SharePoint server 2010 in their organizations. While less common, SharePoint 2007 was still in use in some form at a fifth of companies. It's not all bad news for Microsoft's vision however – Office 365/SharePoint Online are used at 62% of companies, and we can only expect this figure to grow in coming years.
What does this tell us? It's not necessarily surprising that not all organizations are up to date with Microsoft's vision. In fact, given that Office 365 has only existed since mid-2011, its take up is pretty impressive. But it is clear from the results that many companies are using a mix of different SharePoint and Office 365 versions. So we wanted to dig deeper and find out what this looked like in terms of cloud deployment.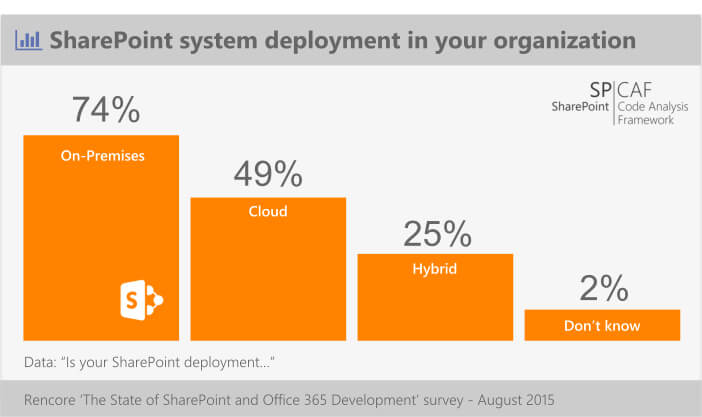 [bctt tweet=".@rencoreab survey 2015: 25% of organizations are using a hybrid #SharePoint system"]
What does this graph tell us? Well, perhaps one interesting result is that there's real openness to cloud and hybrid. While many organization's had at least some of their deployment held On-Premises, over 500 had at least some kind of cloud and/or hybrid element to their platform. Microsoft want a cloud first world. While the data shows we're clearly not there yet, a large number of companies are at least playing with the possibility. Our results here correspond with Gartner's 2014 predictions about the growth of the cloud in 2015.
We also wanted to find out how organizations govern SharePoint. Again, this was about comparing the 'ideal' – Governance by committee mixed with automation – with the reality.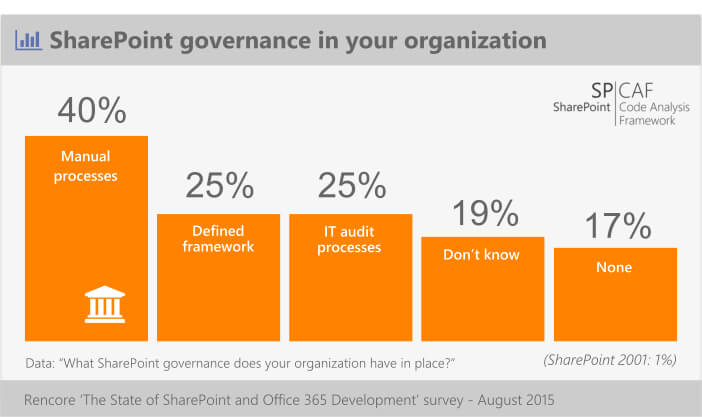 [bctt tweet=".@rencoreab survey 2015: 40% of organizations rely on purely manual #SharePoint governance procedures"]
What's striking is just how many companies don't follow Microsoft's 'best practice'. It's striking that many of our respondents told us that their company depends on manual (and therefore, ad hoc) governance.
How does your organization really work?
As we sift through the data from our respondents, we're coming across a lot of exciting trends and insights – make sure you keep up with this blog series and the final report to find out more. What's striking in the above data is how the reality is currently rather different to Microsoft's vision for SharePoint and Office 365. Why might this be, let us know in the comments if you have a view.
Merken