If you've worked in the Microsoft world for any longer than 6 months, you'll know it's full of acronyms. From CSOM, to BPOS (remember that!), PnP and SDK, they are everywhere. However a couple are clear, in particular the term MVP. In sports 'Most Valuable Player' is its full meaning. In our world, it's 'Most Valuable Professional' and is a recognition that highlights the best in the business and those contribute heavily to the Microsoft sphere.
At SPS Munich, attendees had the chance to listen to 16 Microsoft MVPs speak about all things SharePoint and Office 365 and share their knowledge, best practices and views on what the future holds. But the quality (and acronym's) didn't stop there though. There were also 8 MC(S)Ms – Microsoft Certified Solutions Masters – , 2 MCAs – Microsoft Certified Architects – and 8 MCTs – Microsoft Certified Trainers – speaking at the inaugural event in Munich which made it a very special conference and one we were super proud to host.
Here's a pic of Matthias' opening of the event highlighting the impressive numbers!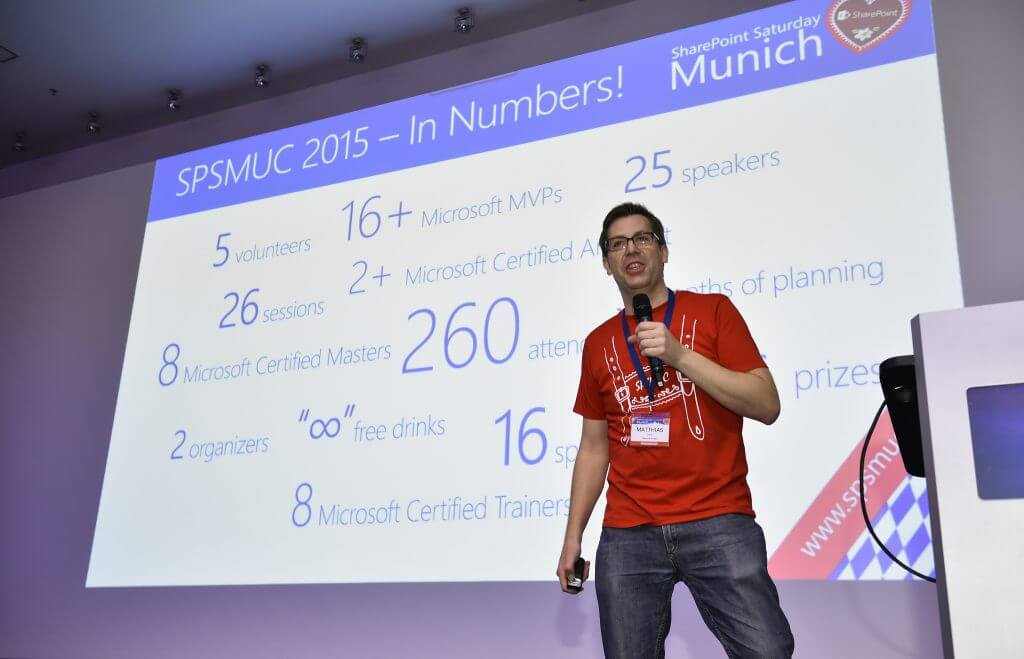 So where do we begin?
An awesome keynote
As we mentioned in our post leading up to SPSMunich, Jeremy Thake – Technical Product Manager at Microsoft – gave the events keynote (another stellar speaker) and shared Microsoft's vision for future Office Development. It was a great way to kick things off and hear what was in plan to customize SharePoint, Office 365 and the Office suite. A big thanks goes to Jeremy for speaking and supporting SPSMunich – Danke sehr Jeremy 🙂
If you've ever wanted to know what it looks like on the other side, here's a pic of Jeremy during his keynote!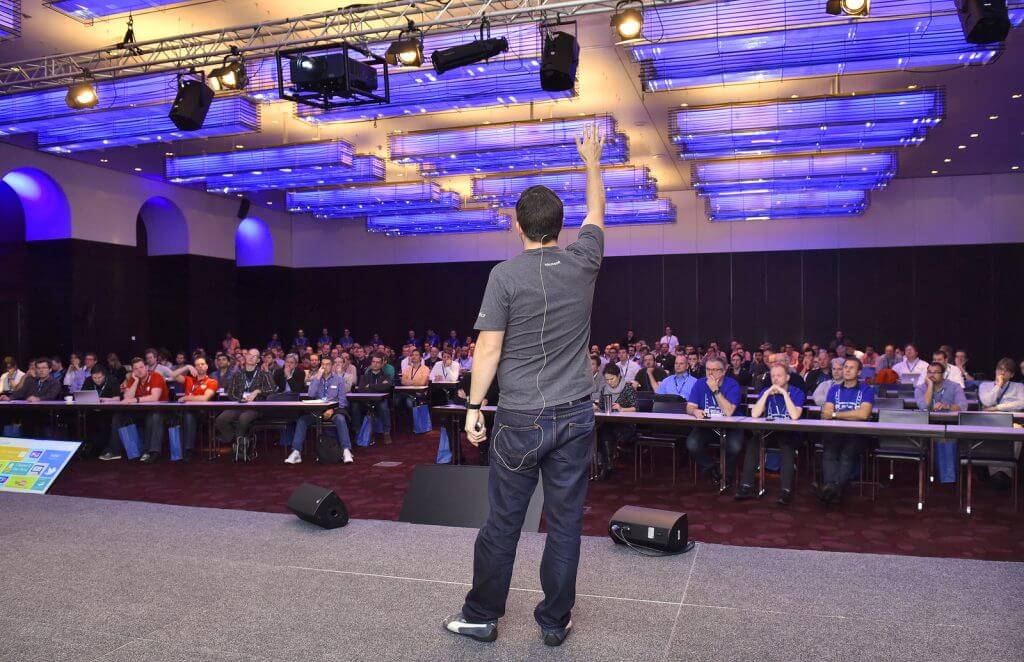 Sessions, sessions and more sessions!
All in all, there were 26 sessions throughout the day that attendees could go along to. Ranging from 'Building contextual experiences with office Graph' to 'How to secure your data in Office 365' and 'Scaling SharePoint 2016 Farms with MinRole & other tools' by the always excellent Spencer Harbar, there was a ton of awesome information to consume.
And just in case one or two had sampled a little too much bavarian beer, our speakers were kitted in matching dress code – hard to miss!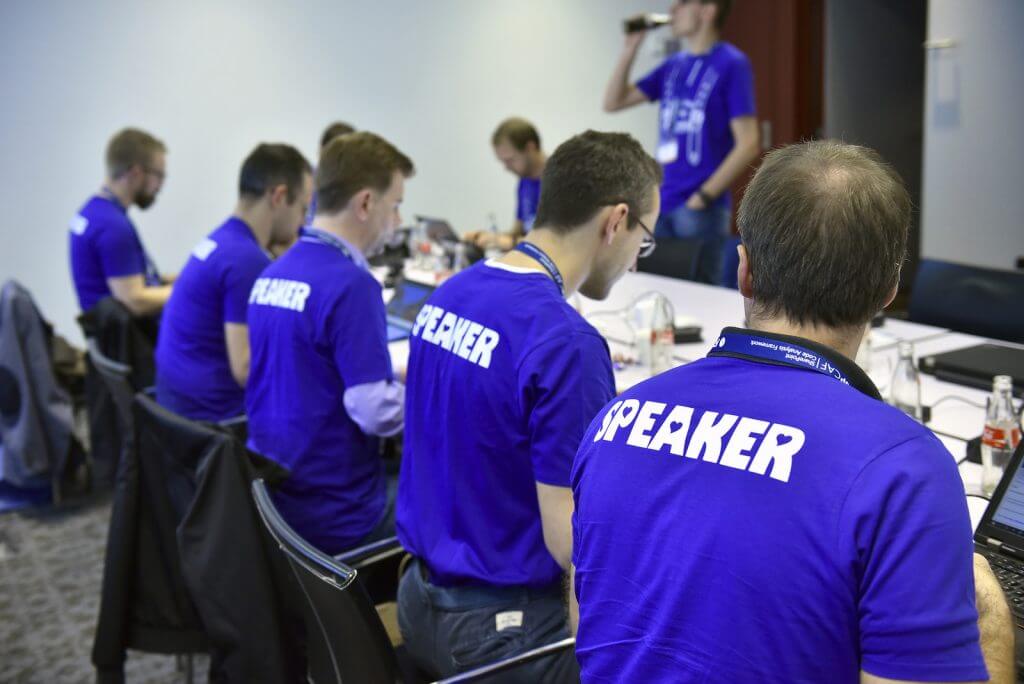 A massive thank you goes to all our speakers who come to an event like SharePoint Saturday on their own expenses just to support the local community! Most of them have now published their presentation decks online, that you can access easily from here:
To see all the official photos taken at SPS Munich, visit our flickr album. We've picked a few of our favorites below for you… enjoy!
The traditional SharePINT
A much loved tradition at many of the SharePoint Saturday events, the SharePint is a chance to 'ask the experts' while enjoying some of Bavarian's most famous beers. What's not to love! At SPS Munich it was great to see so many come along!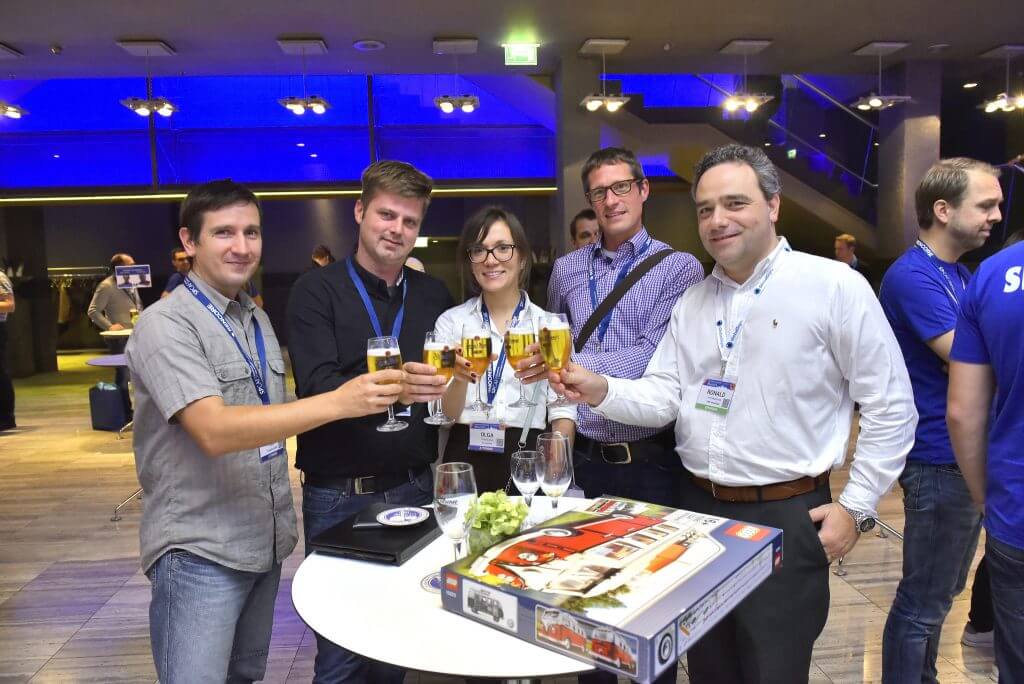 Raffle winners
Now as we all know, an event isn't a true event without something to win! All our attendees had the chance to enter our end of day raffle and pick up some cool prizes, provided by our sponsors. A big congratulations to all those who won and an equally big high five to our awesome sponsors for their generosity!
Volunteer(IF-Blueprint) = Success
Another big thank you must go to IF-Blueprint for their incredible support at SPS Munich. The guys volunteered their services and without them it would be safe to say things wouldn't have gone so smoothly. So thank you guys!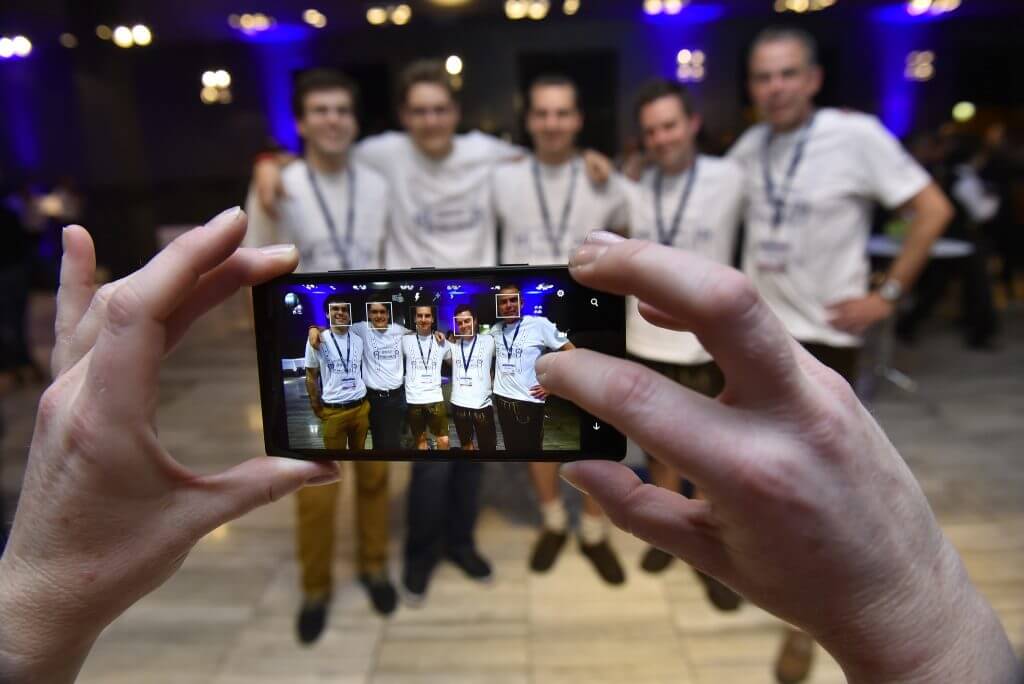 See you again next year!
Hosting the first SPS event in Germany was a huge honor (hard work!) and something we really look forward to doing again. We hope to see many new and old faces once again in 12 months where we promise more learning, more fun and more beer!
If you want to stay informed about upcoming events, then please sign up on our SPS Munich mailing list.
To end, we'll leave you with some of the thoughts from this year's speakers. Vielen Dank!
Spencer Harbar: "This was by a very long stretch the best organised SPSat i've been involved with – and that organisation was not obvious. It was first class – an example for others to aspire to. Well played indeed"
Mikael Svenson:"Probably the best event I've been to, regardless of Saturday or paid. Good attendance, extremely well organized, and super venue/food/service. How many conferences treat you to this much good food and drink? :)"
Donald Hessing: "Absolutely brilliant – even the tourist information was rock solid!"
Andrew Connell: "Very professional run event, from the days leading up to it with communication to even the day after. Very impressive!"
Jeremy Thake: "I haven't been to a SPSaturday in a while because I have so many other commitments. I was really impressed with the quality of the execution of this event, the venue, the food and the attendees! Congrats to everyone involved. It was great to see everyone there too. So proud to be a part of this community!".
Tobias Zimmergren: "This was the first event I've attended since I joined the Rencore team and I couldn't have been happier. Having been to quite a few – free and commercial – it was by far the best community event I've attended to date. Very well organized by Matt, Monika and the crew and a lot of great talent in the speaker lineup, which you don't see every day!"