This blog was originally published on 8th May 2018.
We hear the buzzwords and instantly associate terminology like "digital transformation" as nothing more than sales and marketing tactics, and in many instances that is probably the case. But real digital transformation, beyond the buzzwords, is about examining all of your existing business processes and workloads through the lens of the latest/greatest technology, allowing you to continually optimize performance, improve accuracy, reduce delivery time, and reduce costs.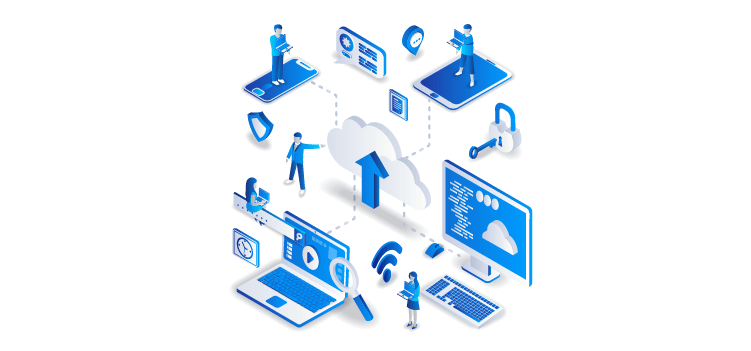 There's nothing new about the concept of digital transformation itself — but the latest productivity and automation capabilities within platforms like Office 365 and SharePoint can help your company to become more efficient and streamlined, as well as more secure.
Where do you begin?
The steps to digital transformation may be different for your organization compared to others, depending on the scope of the business systems and processes under your control, and the priorities you've established based on their performance and operational efficiencies.
Click the button below to watch our free SharePoint modernization webinar on demand.

Every successful business transformation begins with an end-to-end business perspective. As technologists, we often jump to technical solutions before we fully understand what is working today for our organization. Our excitement over new features and capabilities can blind us to the real priorities of our organization, and what to optimize first. Change will undoubtedly have an impact on your business, so it's important that you take the time to understand the current state of things and estimate the impacts of the future state.
Every transformation should begin with a pilot activity so that new technology can be tested, impacts to end users identified, and priorities established.
Step 1: Outline your existing workloads
Rather than roll out a change to an entire business unit, start small by identifying one or two core business activities that need to be modernized, and which have a limited set of users, and an easily defined business impact. In other words, identify a workload with clear owners, repeated processes that allow you to track changes and identify cost savings if improved.
Step 2: Assess your current tools and systems
Understand the tools and systems used to accomplish the current workload, and where they are successful — and where they fail. Many attempts at business transformation fail because of insufficient time and effort to fully assess what is in place today. The discovery process is critical. Undiscovered customizations, for example, can cause a data or system migration to fail. Undocumented dependencies and business requirements can lead to compliance issues, or worse: security breaches.

Step 3: Understand available technology
Have a solid understanding of the latest technology, and how it might help improve the workload. In particular, understand the evolution of core features so that you better understand how seemingly beneficial improvements could impact business processes and cause end user adoption issues. It may be new and improved, but there is always an impact to change.
Step 4: Outline the gaps between current and future
No technical solution will solve every business need, and ongoing manual effort — and consistent governance — may be required to close the gaps between your current systems and planned (future) state. There are things your product of choice can do (which is why you were sold on it in the first place) and cannot do (or it may take configuration or customization). If you have taken the time to clearly map out your core use cases, then review the technology through them one by one. My guidance is to not base your plans around promises for a future road map if there is no value in what is available today. If your basic functional requirements cannot be met, and especially if your security, compliance, and reporting requirements cannot be supported, be aware of the trade-offs that you are making.
Step 5: Create a pilot plan
It is important to create and communicate your pilot plan, ensuring that all stakeholders have a voice in the process, and are aware of the necessary factors for success. You have your plan, you've outlined your use cases, and you understand the limitations and how you'll measure success. Based on these, you have some decisions to make about how to move forward. Weigh the benefits against real (or perceived) shortcomings in control and management, and figure out your strategy.
Step 6: Identify the measurements for success
For each defined use case, how will you define success? For example, a cross-functional community of practice for project management will likely have different measurements of success than a corporate communications portal. Beyond the KPIs and data to help determine where the future system will add value to the workload, you need to also keep in mind the post-pilot requirements. If all goes well with the pilot workload, how will that success help other workloads, business units, or the entire company?
Step 7: Run your first pilot, assess the results
Have a clearly defined timeline for your pilot, monitor and measure throughout, and follow up with a post-mortem with all stakeholders to discuss your success measurements, as well as how the stakeholders handled the change. No amount of metrics and data can replace the need for conversation, helping you to understand real and perceived concerns and issues, all of which can help set the cadence for change — and where you may need to make cultural adjustments to your transformation planning.
Step 8: Identify additional pilot opportunities
Based on what you've learned from your initial pilot activity, apply that learning and adjust your plans accordingly. That could mean speeding up your plans, possibly doubling the number of pilots in your second wave — or it could mean slowing things down, being more thorough in your planning, and expanding the stakeholder base.
Investing your time
The secret to success is to start small, focusing on one clearly defined process or workload before adding too much complexity, allowing you to measure the time it takes to assess, transform, and demonstrate the measurable impact of the change.
Take the time to understand what it is you are trying to achieve, and which aspects of your business would benefit the most. Also remember that compliance and governance controls across disparate solutions can fundamentally change how you manage your new system compared to your prior system, so be as clear as possible on what you are trying to achieve, and how your security, auditing, and other governance requirements will be met.
There is no such thing as ready-built company-wide digital transformation. The rollout of a new tool or platform does not equal transformation. If we've learned anything from the past decade of SharePoint and Office 365 deployments is that the pure technology approach simply does not work. Instead, what works is an incremental, iterative, and closely measured and monitored strategy, allowing you to expand or contract the scope of your digital transformation based on each successful step forward.
Start planning cloud governance
Your cloud-first approach needs a cloud-first strategy. Microsoft cloud governance must mirror the modern needs of the business user it seeks to govern. It needs to be dynamic, automatic, and scalable to handle both platform growth and allow collaboration to flow without friction. Rencore Governance is the solution you need to make all of this happen.
Rencore Governance is a unique governance tool catering to businesses and enterprises of all sizes, has simple setup-and-go functionality, addresses a breadth of Microsoft services, and has extensive automation capabilities. Click the button below to learn more about our one-stop Microsoft cloud governance solution.