In my previous article on Governing Power Platform starting with the Admin Center, I touched on the concept of a Center of Excellence for the Power Platform.
What is a Center of Excellence (CoE)?
In this concept Microsoft explains that a Center of Excellence (CoE) in an organization "drives innovation and improvement and brings together like-minded people with similar business goals to share knowledge and success, while at the same time providing standards, consistency, and governance to the organization".
With this in mind, the Microsoft Community has shared the Microsoft Power Platform CoE Starter Kit. This is a collection of components and tools that are designed to help you get started with developing a strategy for adopting and supporting Microsoft Power Platform, with a focus on Power Apps, Power Automate, and Power Virtual Agents.
It has already been 3 years since the first release and every few months quite some enhancements are made. With every enhancement, the number of components of this kit grows or the functionalities become better. More details on every component can be found at CoE Starter Kit explained: building blocks and add-ons – Power Platform | Microsoft Learn. It even has reached a version where a simple click-through-wizard will guide you through the installation: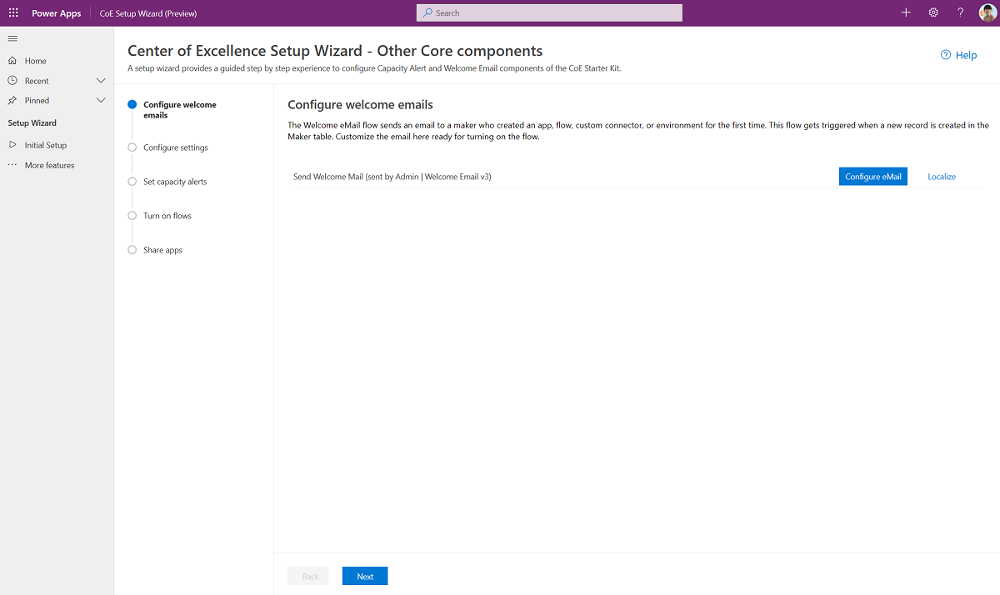 How to get the most out of Power Platform with CoE
As someone who has installed the CoE Starter Kit frequently in the last few years, I can say that this wizard has minimized the effort and time needed to install the components you desire. I really recommend to follow this GitHub repository to stay up to date. Also as an extra effort, it could be useful to follow some individual contributors of this repo.
The CoE Starter Kit heavily relies on Power Automate Flows to get all Power Platform data on a daily basis. That is why recently another data collection option started to surface in the experimental stage where you can use Azure Data Lake Storage combined with the Data Export (preview) feature of the Power Platform Admin Center. Please see this resource on what would benefit your scenario the best.
In general it would be wise to update the CoE Starter Kit every 6 months to stay up-to-date and enjoy the latest releases. More information about updating and extending can be found at these links.
As mentioned before, the CoE Starter Kit is not to be confused with the concept of a Center of Excellence. The concept of a Center of Excellence means "investing in and nurturing organic growth while maintaining governance and control. A CoE is designed to drive innovation and improvement, and as a central function it can break down geographic and organizational silos". The CoE Starter Kit is a very useful tool in achieving a Center of Excellence but the tool itself can never be the end goal. With installing the CoE Starter Kit the journey on setting up a Center of Excellence is only just beginning…
It will provide amazing insights on usage, adoption and continuous improvement through the Power BI Report that can be deployed to a work space with just a few clicks: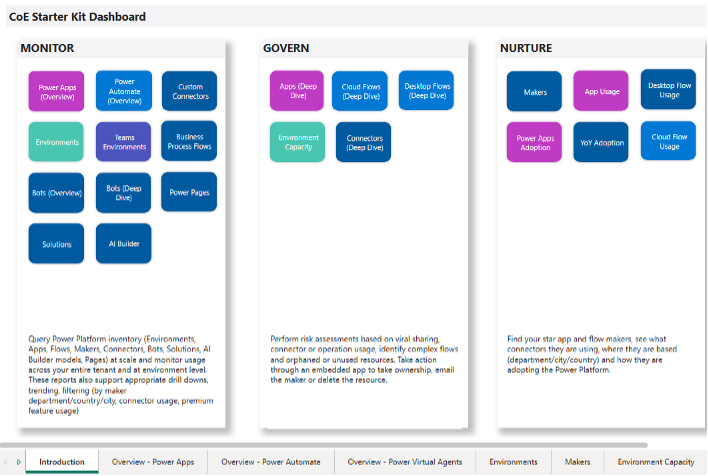 The Power BI Report is broken down into three focus areas:
Monitor – covering an oversight of tenant resources

(Environments, Apps, Flows, Bots, AI Builder models, Power Pages, Solutions and Makers)
Govern – supporting an organization to drive actions through insights

(deep dive details on the items mentioned in Monitor area)
Nurture – enabling an organization to learn about its own community

(more maker, user and usage details on all previous areas)
A separate dashboard can be deployed covering basic parts on Compliance and Adoption with the CoE Power BI dashboard – Power Platform | Microsoft Learn.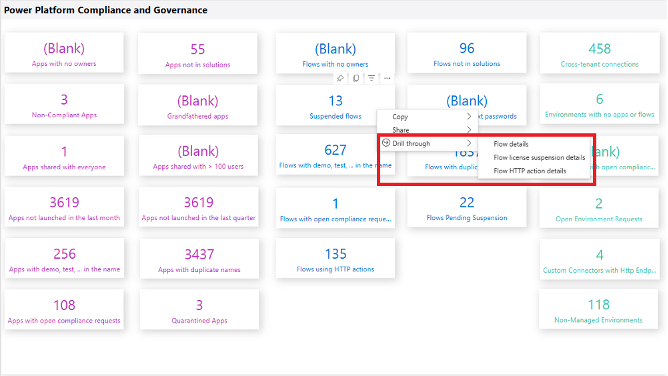 However, an organization still has to do something with these insights. The effectiveness of what an organization will do with these insights, should be the benchmark of how good your Center of Excellence is performing. Combine this with the Governance Automation solution of Rencore with important parts of Power Apps and Power Automate to extend these insights and simplify compliance efforts throughout the whole Microsoft 365 environment.
A note from Rencore
For more information on administering the Power Platform, head over to our whitepaper titled "Microsoft Power Platform governance best practices." This whitepaper offers best practices for implementing an effective Power Platform governance strategy that helps increase productivity, reduce operational costs, and reduce the hassle of managing power users.