Good morning, and hello from Seattle! I'm again attending Microsoft Build 2019 in very sunny downtown Seattle. This year things are a little bit different as there is a vision keynote by Satya Nadella, which is scheduled to run for 90 minutes only. Then after a break, we split into two technical keynotes – one on Azure and another on Microsoft 365. I will attend one of these technical keynotes as well and try to view a stream of the other, but probably not at the same time.
The purpose of this blog post is to walk through the announcements of the vision keynote and provide additional context and resources that become available during the show. You can also stream the keynotes here.
Keynote kickoff
We're running a bit late from the scheduled start, but finally, the show is on!

We're getting a Mixed Reality demo but sadly that fails. Not a very good start but these things happen. Moving on to Satya Nadella on stage next.

Major tech announcements are probably reserved for the other keynotes. First, a reminder of Microsoft's mission together with opportunity & responsibility.
First announcement! An open source project called Election Guard. It will be available through GitHub in late May.
We start with Intelligent Cloud – Azure is available in 54 regions and has over 90 compliance certifications to date.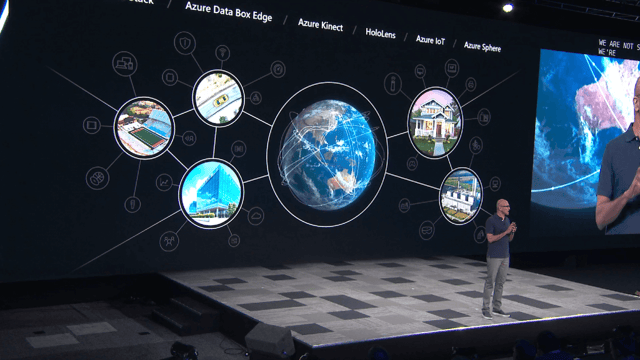 Azure is an open platform – .NET and Java, Windows and Linux – all first class citizens. Azure is extending to something called the Intelligent Edge (which for old-school people like myself was previously called the DMZ). A nice slide outlining new Azure services and updates is shown.

A few showcases are shown. It's more like 2-second flashes of people typing on a keyboard and using touchscreen displays. JP Morgan Chase using Azure Blockchain. AT&T is using Azure Stack for Intelligent Edge solutions and 5G.
Next, Starbucks. The demo is using Azure AI and Azure Sphere. It's an early pilot of a system called DeepBrew where you can order a cloud macchiato.

Azure IoT Central is being piloted at Starbucks. It's interesting how Starbucks is using readily available Azure services to build the future of their business. I wish they would open source DeepBrew, though!
Back to Mr. Nadella and the topic now is Azure AI.

Azure Cognitive Services is first to be discussed. Azure Speech Service gets a separate mention and a demo. Using commodity, off-the-shelf hardware it's possible to do speech recognition and apply deeper understanding for local jargon and industry-specific terms. This builds on top of the demo Microsoft had a year ago at Build 2018.

No mention of language support so I fear it's US English only for now during the preview.
Back to Nadella again. Moving from speech to Mixed Reality, or MR for short. Multiple mentions of companies using MR to enhance their businesses – Royal Dutch Shell and Toyota among others. All other Azure announcements are reserved for Scott Guthrie's keynote that kicks off a few hours from now.
Moving to Dynamics 365 & Power Platform. 90% of the Fortune 500 are using Power Platform today.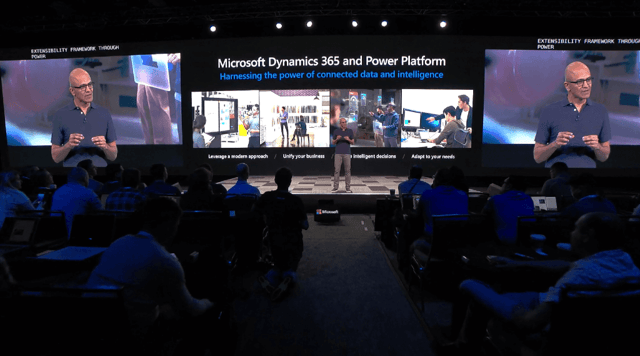 The Common Data Model allows for adding your own entities and data, and this can be accessed and embedded through other Power Platform services (Flow, PowerApps and Power BI essentially). Dynamics 365's modern architecture gets multiple mentions.

Just like last year, Adobe and SAP get a mention, together with the Open Data Initiative. And from here we move to Microsoft 365. It's becoming clear this keynote provides is a vision on the platforms and the aim is to bring more visibility to all the platforms, not just Azure.

Cortana is being focused more on specific tasks, such as Outlook reminders. Connectivity with Bot Framework is something that gets a brief mention. A video showing a demo of how Cortana provides better productivity with conversational tasks, such as "What do I have today?" and then Cortana tells what's in the calendar. It's an iPhone in the demo, btw.

Multi-domain, multi-turn, and multi-agent are essentially what's demoed here.
Microsoft Graph next. Office extensibility with Graph-infused data, SurveyMonkey and Bloomberg mentioned as companies using this capability.
Edge then – or Edgium, as someone jokingly said on social media. Edge with a Chrome heart. It will be cross-platform. A demo on Edge Preview next.

A quick demo on some new enterprise features in Edge Dev, specifically a new tab showing my documents and integration with Microsoft Search. Edge will also have built-in support for Internet Explorer. It's seamless and definitely speeds up adoption of the new Edge.
For privacy, tracking has better controls now.

Collections is a new feature, allowing combining content from multiple pages to a new collection.

Fluid Framework next. A new UI approach for building apps. I found it hard to understand what exactly is new and how developers can benefit from the Fluid Framework SDK. It's not available yet, but later this year. Fluid Framework will eventually be in Microsoft 365 experiences, so probably Office 365 portal, SharePoint Online and Dynamics 365 will get a facelift with this new framework.
Microsoft Teams next. Quick clips of people using different Teams features in meetings. Whiteboard, multiple video streams at the same time and similar. A demo on Hololens 2 + Teams from a company called Spatial. A meeting can be upgraded to a 3D meeting and it's something straight out from Star Wars with holograms and help-me-obi-wan-kenobi-style hovering video.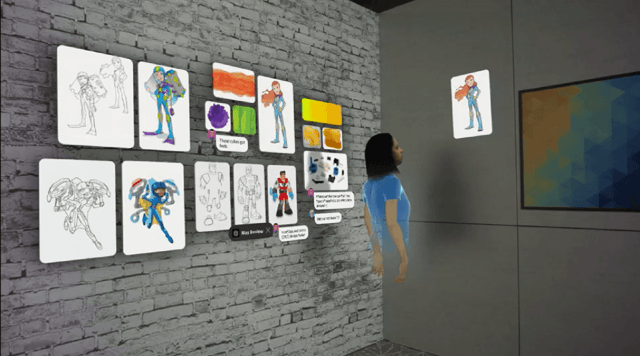 To be honest this demo was quite impressive and something I could envision using in real life. Now, I just need to expense a few Hololens 2 devices to get started with my 3D meetings.
Next, gaming.

Xbox Live has 63 million users and some new rules also. Microsoft Game Stack is mentioned but I think that was already announced in March 2019.
I like this "Big Picture" diagram that nicely aligns the platforms in relation to each other:

And that is it!
Announcements during the keynote
Not too many announcements, the majority of those will be revealed during the tech keynotes. Here are the ones I was able to capture during the keynote:
And that's a wrap!
Thank you for reading! Let us know on Twitter (@jussiroine & @rencore) your thoughts on the vision keynote, or voice your opinion in the comments below!