Munich, Germany and West Haddon, United Kingdom: Rencore announces that Lightning Tools has completed the Development Best Practices Certification program. The certification provides an objective, independent standard for testing the quality of SharePoint solutions, add-ins, and apps. Lightning Tools' development approach for its products has successfully passed the certification process. The UK based company is now eligible to use the certification showing customers that Lightning Tools products fulfill the highest industry standard tests.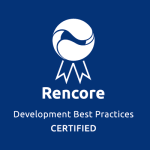 The Rencore Certification program came into being as an extension of Rencore's core business: optimizing quality, security, and supportability of SharePoint customizations. The certification program targets independent software vendors who are looking to optimize the quality of their products following best practices, reduce the cost of development, and increases trust within their respective customer base. The vetting process tests the following areas vigorously: functionality, reliability, operability, performance efficiency, security, compatibility, maintainability, and transferability of the respective product.
To get the most out of SharePoint organizations should add functionality by customizing in-house or via third-party applications. Either way, these organizations have to make sure that customizations don't introduce risks to their SharePoint environments. The consequence of unchecked customizations can result in poor performance, maintenance, and even data security.
Brett Lonsdale, CEO of Lightning Tools says: "Ultimately, the Rencore Certification demonstrates to the customer that our products' code meets the highest standards. The certification program pays for itself because we gain more sales as a result of displaying the certification logo. It was definitely worth going through the vetting process, and it also gives us satisfaction to know the company is offering our customers the very best."
Rencore's certification program, based on its customization quality and governance tool SPCAF, was phased into Lightning Tools' processes and over the turn of three months aligned these processes to comply with all certification requirements.
Matthias Einig, CEO of Rencore: "Ever since founding Rencore, our mission was to help organizations get the most out of their customized SharePoint environments. Rencore solutions enable our customers to assure quality, supportability, and security of any kind of customizations, whether being developed in-house, externally or by ways of third-party applications. With the Rencore Certification program, we now offer ISVs and third-party application providers an additional way to prove the quality and security of their offerings."
About Lightning Tools:


Lightning Tools was founded in 2007 by SharePoint MVP Nick Swan and Brett Lonsdale. Lightning Tools products help thousands of customers connect SharePoint On-Prem and Online to external data. Their tools fill many gaps such as Business Connectivity Services, Content Aggregation, Permissions Management, Enterprise Discussion Forums, Form Customization, Charting, and Data Views.
About Rencore GmbH:
Rencore is the leading provider of software protecting organizations against customization risks in Microsoft SharePoint and Office 365. Their proven suite of products detects and resolves potential security issues and compliance risks caused by custom coded solutions, third-party components, and citizen developers. Rencore's de-facto standard tools are addressing three key areas: Risk Prevention, Transformation, and Governance. Rencore's leading-edge software is trusted by more than 500 organizations worldwide and is used by Microsoft among other major enterprises.
Click the button below to view the full success story!