Hello and welcome to our festive Rencore Update! What a ride this year's been. We want to say a big thanks to all of you for your support throughout this year. Rencore Governance would not be the tool it is without you.
Rencore Governance assists over 200,000 users globally. Throughout this year, we have continued our customer-centric approach to make Rencore Governance flex with the ever-changing needs for governing Microsoft 365. We have grown our service portfolio, currently catering for Microsoft 365 groups, Teams, SharePoint, OneDrive, Azure AD, Power Automate, Power Apps, Exchange, and Yammer.
This month, we want to look back over that journey.
Prefer to catch up by video? Check out our latest product update here:
Our product update communications were designed to give you a selection of updates on a monthly cycle.
And our product team delivered every time, worked hard on rollouts since our general release earlier this year.
Here are some key product numbers:
New entities for M365, SharePoint, OneDrive, Azure AD, Power Automate, Power Apps Yammer, and Exchange
The rollout of new entities was particularly impressive. As we added new services such as Power Automate, Power Apps, OneDrive, Exchange, and Yammer, we also added over 50 new entities for you to build out a wide range of relevant Checks to govern your Microsoft services.
Dashboards
Our dashboards are one area that evolved greatly. They became more intuitive regarding functionality, relevance, and ease of use. For example, you can drag, drop and resize specific tiles, and our prebuilt use case dashboards empower you to start governing quickly. Furthermore, being able to import and export dashboards allowed you to transfer your setup to different workspaces to save time recreating. Finally, the opportunity to create custom tile lists brought you more control when prioritizing the severity of violations against your Checks.

Role Management
One key learning was other stakeholders outside the IT admin team needed access to Rencore Governance. Whether that be security and compliance teams needing access and sharing data or procurement teams wanting to know the quantity of assigned Microsoft licenses. The role management feature allows for controlled access on a granular level, only allowing certain information to be shown to those who need it.
For example, Roles like:
Owner which has 42 permissions
Admin, 37 permissions
Contributor, 28 permissions
And Reader with just 4 permissions
Checks and data export management
Carrying on the theme of keeping all stakeholders in the loop, we added the functionality to export Checks as a CSV and complete data grids to Excel or PDF. This feature proved massively helpful for those managing up, giving regular reports on policies enforced.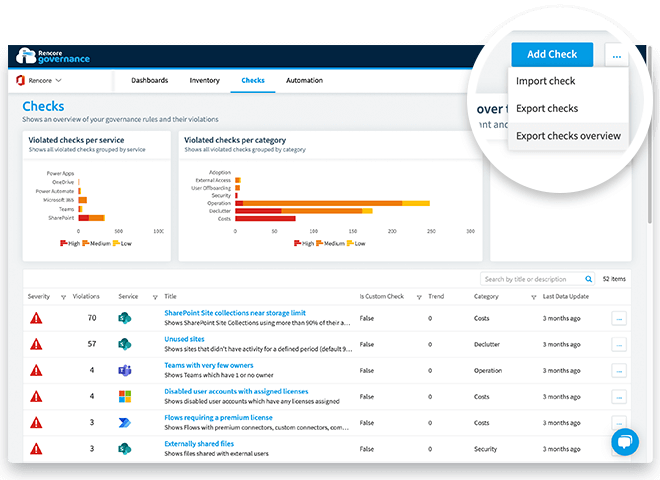 For the complete rundown of all our important product updates, please check out our blog. Just click the category Rencore highlights and you will see the complete list of updates month by month.
Happy holidays!
We hope you get some much-needed rest and quality time with loved ones over this festive holiday.
From all of us at Rencore, we wish you a happy and merry time and look forward to rocking 2022 together.
As always, have a great day, happy governing, and see you next month!