Hello! warm greetings, and welcome back! 2022 has a lot in store for Rencore Governance, and we are glad you have joined us for the ride!
Our product team started nice and early to bring three important updates for you this month – including white labeling, note-taking for entities, and more Checks.
Prefer to catch up by video? Check out our latest product update here:
White labeling
We know Rencore Governance fits seamlessly into your organization's cloud governance strategy. But we felt you should also get the look – not only the feel – of a fully integrated tool within your processes. Therefore, we are delighted to announce our new white labelling workspace feature!
By heading to settings and selecting appearance under workspace, you can change the UI appearance for the specific workspace. For example, change the colour schema and logo to match your organization's brand guidelines.

Add notes to entities
With this next feature, you can add notes to entities within Rencore Governance, helping you document processes and offer extra information for IT support tickets. By simply selecting the "note" symbol next to the entity, you can elaborate on their use in conjunction with your checks, related objects, and automations, allowing you to leave helpful learnings and instructions for stakeholders who use Rencore Governance or who are introduced to it further down the line.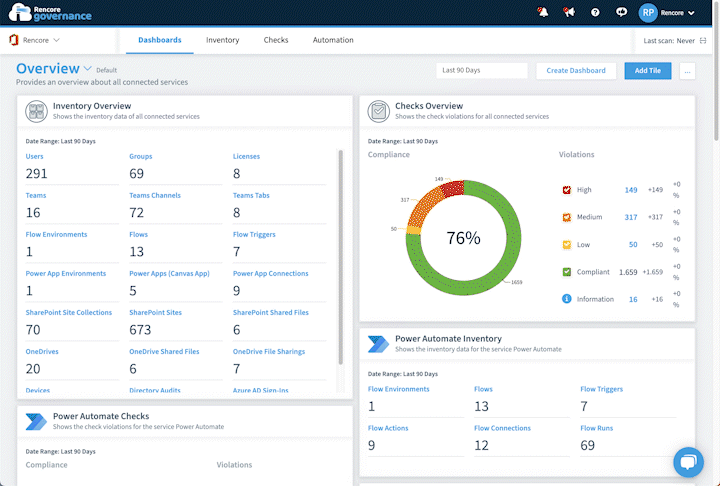 New Checks
The number of pre-built Checks available for governing your environment continues to grow month after month. Therefore, our new date range filter allows you to see when Checks were last used. Click on checks overview and filter accordingly by date to search your Checks library.
Talking about new Checks, here are four more for you this month:
Enterprise applications that use Microsoft Graph permissions
Enterprise applications that use SharePoint Online permissions
Guest user accounts with Dynamics License assigned
Admin / Service-Accounts with E3 license assigned
We value your opinion!
We have one final message for you today. If you are enjoying using Rencore Governance please, spread the word! You can do this by rating Rencore Governance on G2. It will only take one minute of your time.
Until next time, have a great day, happy governing, and see you next month!