Hello, and welcome to this month's product update!
We are fresh from our summer holidays and back with a bumper pack Rencore Governance Product update. We've been tweaking and refining performance over the summer while also working on the following features for you to explore.
Those include a stack of Policies to mitigate guest user and Power Platform vulnerabilities, email templates for provisioning, a custom PnP (Patterns and Practices) Template for advanced provisioning use cases, and many more.
Read on for finer details.
Check out our feature update video here!
Guest User - Power Platform Policies

A recent vulnerability has been discovered in Microsoft 365 that specifically affects guest user accounts. This vulnerability has the potential to be exploited using a Power Apps free trial, allowing a bad actor to create apps with access to the organization's connectors. In a worst-case scenario, this could lead to unauthorized access to internal, sensitive, and personal data, resulting in a significant data breach.

Luckily, you don't need to lockdown your environment and you can quickly mitigate any risks with Rencore Governance policies by identifying:
Power Apps owned by Guest Users
Flows owned by Guest Users
Power Apps where Guest Users are Members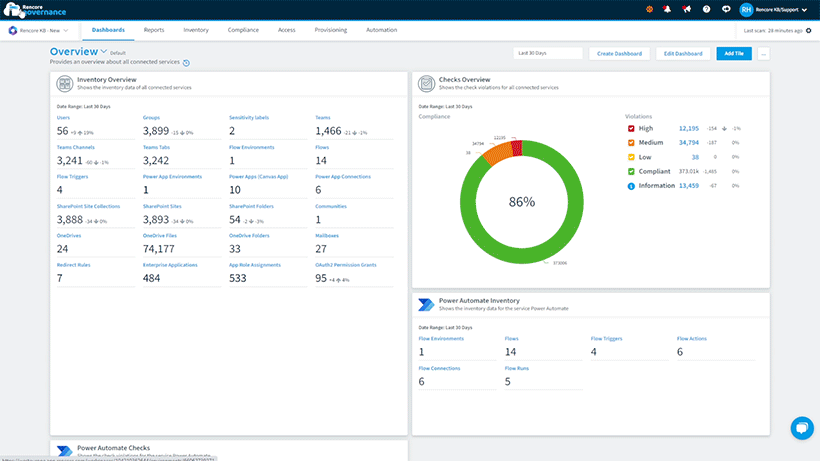 Private team site collection detection
Staying on the topic of policies, many customers have asked for the opportunity to locate SharePoint Site Collections that are attached to private channels. Therefore, we have updated both our Teams and SharePoint Site collection entities to include this relation and we have also updated the Policy "Inactive Teams" to identify private channel site collections as well.

Provisioning Custom PnP template
Rencore Nova introduces provisioning features that cater to both IT professionals and end-users. One such feature is the ability to create new Microsoft Teams, where essential settings like team name and owner assignment are mandatory. During the provisioning process, users can also configure additional settings such as team description, owners, and members.

However, some partners may require more advanced provisioning scenarios. For instance, they may need every provisioned team to be connected to an underlying SharePoint. In such complex cases, the provisioning builder UI may not offer these options.

Fortunately, there is a solution. By uploading a custom PnP Template, users can utilize an XML file to specify specific settings for provisioning. This XML file can include additional lists, site administrators, and other settings for SharePoint site collections. Simply take the PnP template and upload the corresponding XML file to Rencore Governance. This allows for greater flexibility and customization in provisioning processes.

Provisioning custom email templates
At Rencore, we are constantly evolving, and we have an exciting update to share regarding our provisioning feature. Just like in our automation builder, we now offer the option to choose a custom mail template.
To access this feature, simply navigate to the approval section of the provisioning template builder. Here, you will find a range of custom email templates to handle your approval requests. You have the flexibility to personalize the content, header, footer, and even add your own logos. This enhancement allows for greater customization and branding within the approval process.

Scan job details
We are constantly evolving our service scanning process in Rencore Governance and among recent updates including job intervals and entity scheduling to improve scan performance and speed, we have now added scan job history. You can now see what inventories were impacted, and what objects were updated in the scan on the Job Details Page.

Rate us on G2
I have one final message for you today. If you are enjoying using Rencore Governance please, spread the word!
We are currently looking for Rencore Governance ratings on G2 and we need your help. It will only take one minute of your time. Thank you so much for your support.

Until next time, have a wonderful day, happy governing, and see you next month!