After many years, the business users from our customers ask us the following questions:
What is the difference between SharePoint and OneDrive?
When should I use SharePoint or OneDrive?
For us, as consultants, the answers to these questions are clear as water. That said, you must remember that not everyone works daily with these Microsoft 365 services. You need to answer these questions to guarantee a successful adoption rate in your organization. Next to these questions, the IT staff asks us the following questions:
What governance topics are applicable for OneDrive and SharePoint?
What options are available to implement the governance?
In this two part series, we are going to answer these questions. This helps you increase the adoption rate of SharePoint and OneDrive, and you can implement a successful governance strategy in your organization for SharePoint and OneDrive.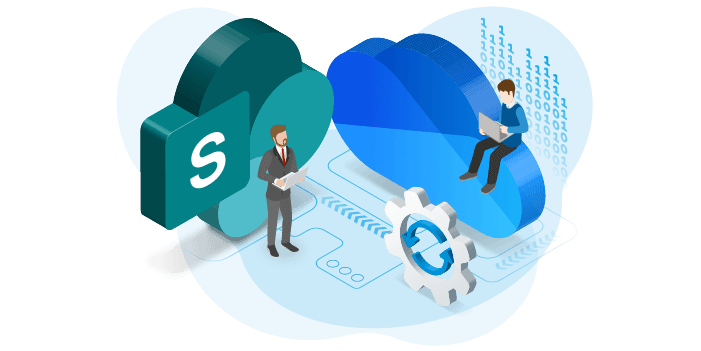 Microsoft SharePoint is one of many cloud collaboration platforms that enable teams worldwide to work together on documents simultaneously. It has proven to be a vital tool for robust file permission management, document process flows, retention policies, and more.
What is OneDrive
When we talk about OneDrive in this article, we are talking about OneDrive for Business. Not OneDrive connected to Outlook.com. Microsoft describes OneDrive as following:
Cloud storage and file sharing for business: Designed for business—access, share, and collaborate on all your files from anywhere.
Personally, I don't find this a description you share with business users, and they immediately understand the purpose of OneDrive. They need more context so when I talk about Microsoft 365 with our customers, I look at it from an organizational perspective:
Me: the employee
We: the team
Us: the organization
OneDrive falls under Me. It is the location, within Microsoft 365, where you can create and share your files. The following pillars showcase the strength of OneDrive:
Offline access
Maintain access to your files, even while being offline, with the integration with Windows Explorer.
Integrated experience
Access your OneDrive files within Microsoft Teams or view your files stored in SharePoint within OneDrive.
Easy to share
Easily share a link to a file with your colleagues or guests. No more need to send an attachment.
Anywhere, anytime, any device
Use the OneDrive app to access your files anywhere and anytime.
OneDrive offers an additional scenario whereby you, the business user, can create drafts or concepts and share these with specific colleagues or guests. Before storing these in a SharePoint Team Site or Team in Microsoft Teams whereby more people have access. Are you done with the draft or concept? You move the file to the related Team Site or Team. Personally, I love this scenario but not many customers have implemented this scenario. They prefer to use OneDrive only for personal use and all other content is designated to Team Sites or Teams.
The following resources contain more useful information:
What is SharePoint
Microsoft describes SharePoint as following:
Share and manage content, knowledge, and applications to empower teamwork, quickly find information, and seamlessly collaborate across the organization.
I, just with OneDrive, use the organization perspective to explain SharePoint. This time it's not one but two categories:
We: the team.
Us: the organization.
The reason SharePoint falls under two categories, is related to the two SharePoint templates:
1. SharePoint Team Site
2. SharePoint Communication Site
Let's take a closer look at the use case both templates.
SharePoint Team Site
The use case of the SharePoint Team Site is collaboration with a group of people. For example: Projects or departments. Many of our customers are using the SharePoint Team Site in combination with Microsoft Teams. The connection between these two can be seen in the files tab of a channel in Microsoft Teams: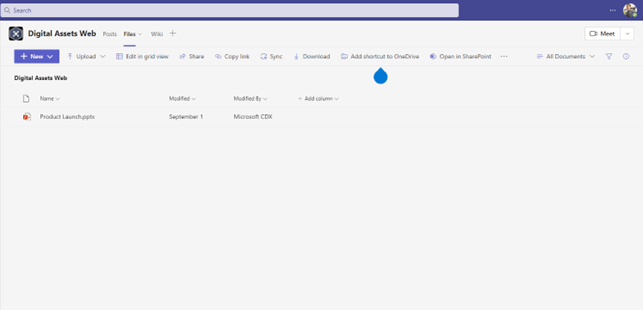 Due to the nature of a SharePoint Team Site its connected to the We: the team category.
The following resource contains more useful information:
SharePoint Communication Site
The use case of the Communication Site is organization wide communication. This template is specially created for Intranet portals: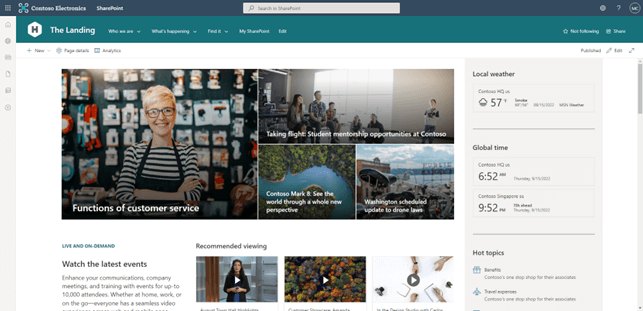 Although it is possible to collaborate, for example with the SharePoint document library, this isn't the use case of Communication Sites. This is clear due to the absence of the Microsoft 365 Group connection. Due to the nature of a SharePoint Communication Site its connected to the Us: the organization category.
The following resource contains more useful information:
SharePoint and OneDrive Governance
Governance is a critical part of successful cloud collaboration technology adoption as it helps ensure the organization as a whole meets its business objectives. I will explain this in greater detail regarding SharePoint and OneDrive in the next blog post: SharePoint and OneDrive governance.
If you are keen to learn more about governing SharePoint and OneDrive alongside other Microsoft 365 services, I recommend reading the following free whitepaper "Complete visibility across Microsoft 365". It offers best practices to centralize and automate your governance approach in order to maintain control over multiple Microsoft 365 services.