Hello! It's me again, your resident keynote blogger. Today, SharePoint Conference 2019 kicked off in Las Vegas. I bet it's sunny there. I'm sitting quite comfortably at home in Helsinki and recapping the news and updates made during the keynote. For some reason, the keynote was not streamed live so I'm following up with the recording, which you can also view here. Perhaps I should provide a live stream of myself while writing this out!
Keynote kickoff
The recorded stream went live at 9:02 pm (CEST), so here we go! First on stage is Seth Patton, General Manager for Microsoft 365.

We get a reminder on industries that used to be steam-powered. Fast forward to digital transformation, to set the stage for upcoming announcements. Over half of Americans work remotely from time to time. I'm not sure what the number would be in Europe, but especially in IT, I'd say it's closer to 70 % already.
The Intelligent Workplace is the phrase we should be prepared to hear over and over again. I like that Microsoft comes up with a simple, yet enticing phrase that captures the ideology and thinking behind all the dozens of products and services in Microsoft 365. Teams get a notable mention, as it's the fastest growing business app in Microsoft history.
I am moving on to SharePoint with some very impressive figures. One hundred eighty million monthly active users for Office 365 commercial and 60 % SharePoint growth in active users in the last year. SharePoint Framework usage has grown a staggering 373 % in the last year. Understandably Microsoft is not releasing raw figures or base values, but even still, 373 % is very impressive!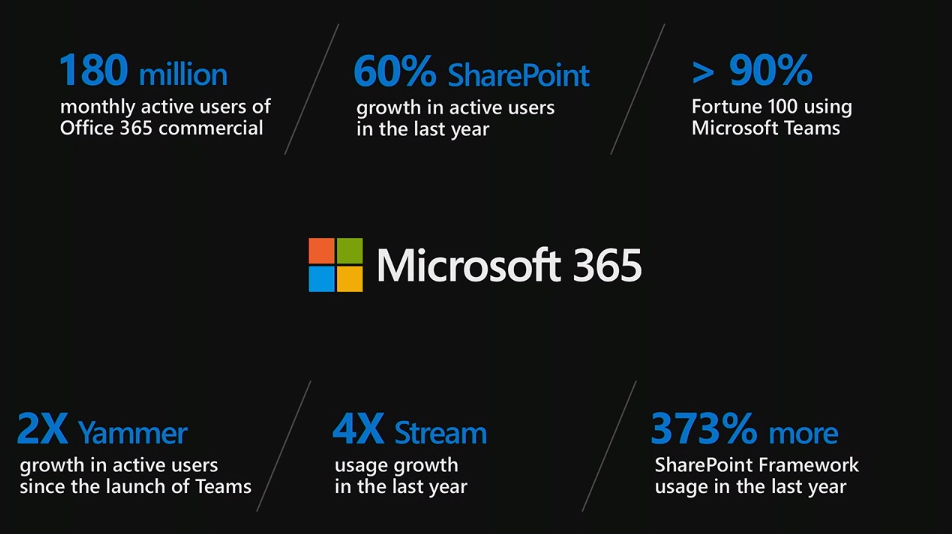 Next up is Jeff Teper, Corporate Vice President.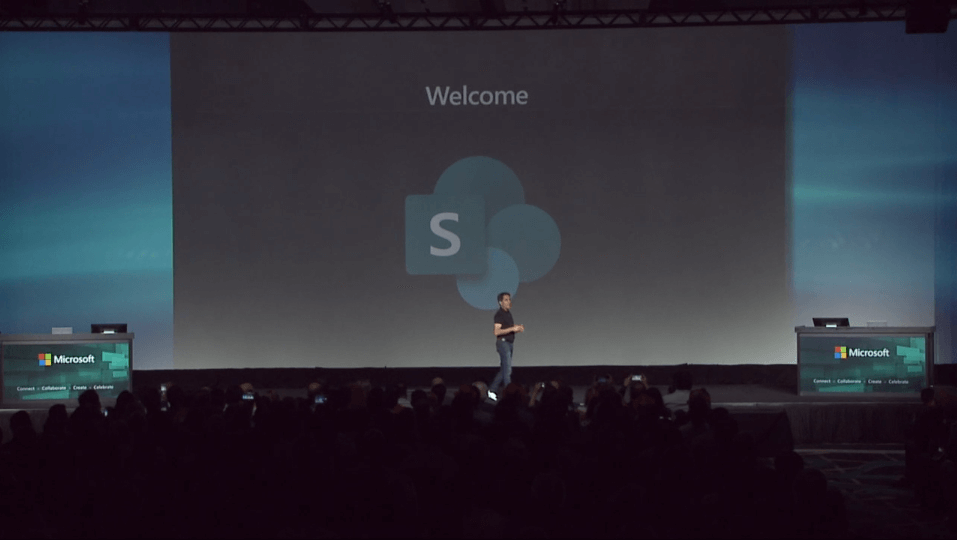 SharePoint (Online) today runs in 28 regions, 53 data centers, and on 180,000 servers. The SharePoint Community gets a specific mention also – it is one of the most vibrant and friendliest communities I've had the privilege to be part of, for sure.
Moving to Teamwork and business process. A demo by Jason Moore (Group Program Manager) and it starts with OneDrive's Request Files from others feature.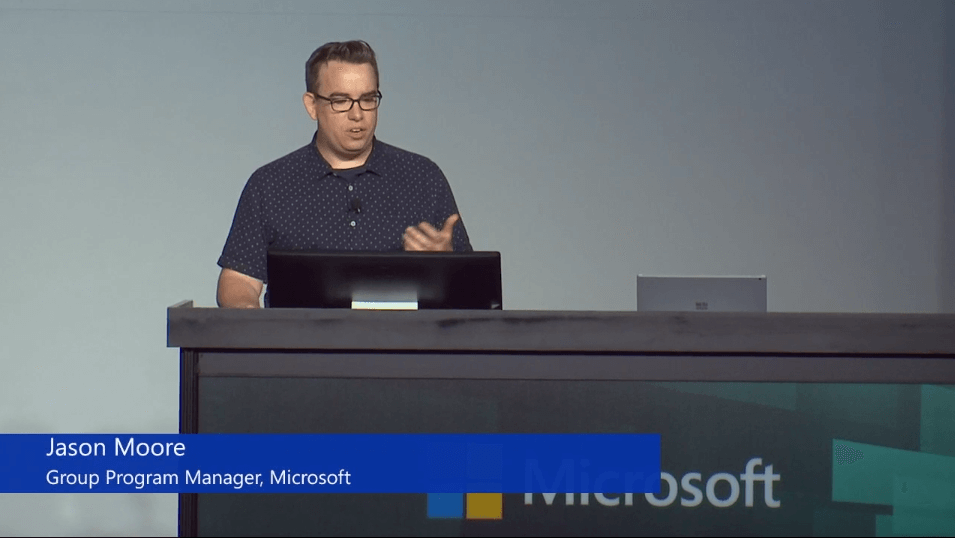 Right-clicking a slide in PowerPoint soon allows for direct linking. It's the same sharing control through Office apps, and it supports link expiration, permissions, and similar fine-grained controls. OneDrive supports over 300 file formats to date, including AutoCAD files (.dwg). 360-degree images will be supported in SharePoint and OneDrive.
OneDrive on mobile has Office Lens capability for scanning and storing documents, and that gets a small refresh in the app. Outlook Mobile gets a new experience when attaching a file, and it allows for direct picking of files from OneDrive and SharePoint. Thus it's not needed to first sync the files locally on the device before attaching them.
We go back and forth between Teams, SharePoint, OneDrive, and Office apps so bare with me!
Teams file experience finally gets a view with all of the metadata from SharePoint. Views are also supported, thus filtering, and more complex scenarios benefiting from metadata become available in Teams. 64-bit client for sync (OneDrive) will be available later this year – I'm unclear if this is for OneDrive app or just the sync capability within the app on Windows. Apparently syncing non-Office files also get delta sync – a demo is shown on syncing a .BMP image file.
Next on stage, Karuana Gatimu (Principle PM Manager, Teams). Full-screen view in Teams for SharePoint lists is shown.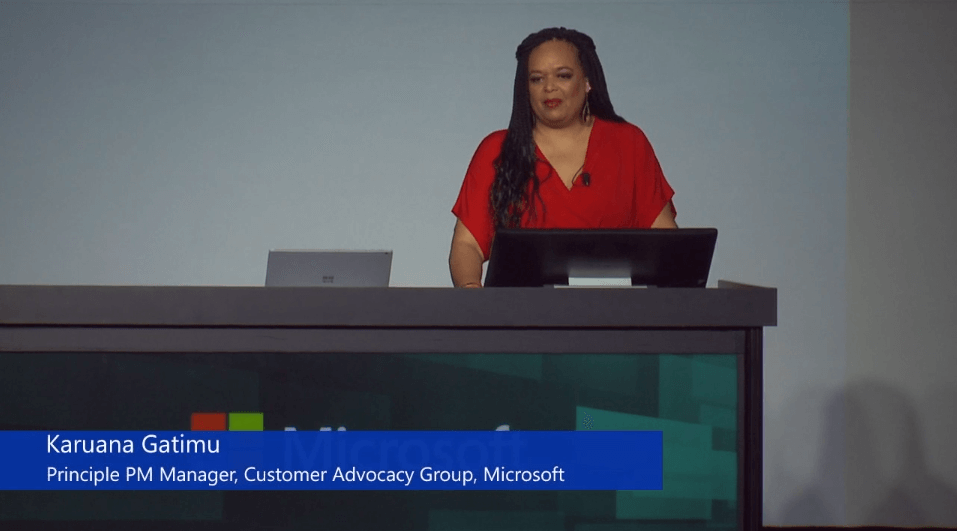 Some new Teams features are being shown, especially when using between different apps like Excel and Planner and how Teams allows a more productive approach in the same user interface. Importing data from an Excel file in SharePoint allows for quick data mapping and column data type modification in a new wizard.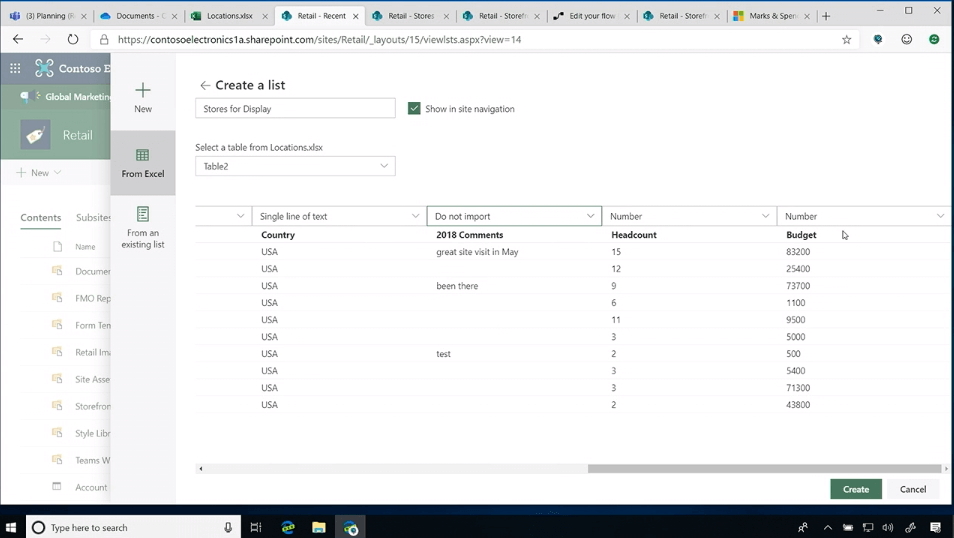 List column formatting is shown next with conditional formatting. All these demos seem to have a common goal of showing how productive (and intelligent) work happens through the different services in Office 365. In one example, Flow is being used to modify SharePoint list item data. Mobile apps are given a fair share also to highlight the seamless ability to work on and off the desk.
Next, Navjot Virk (Group Program Manager, Microsoft) on stage to show Labels.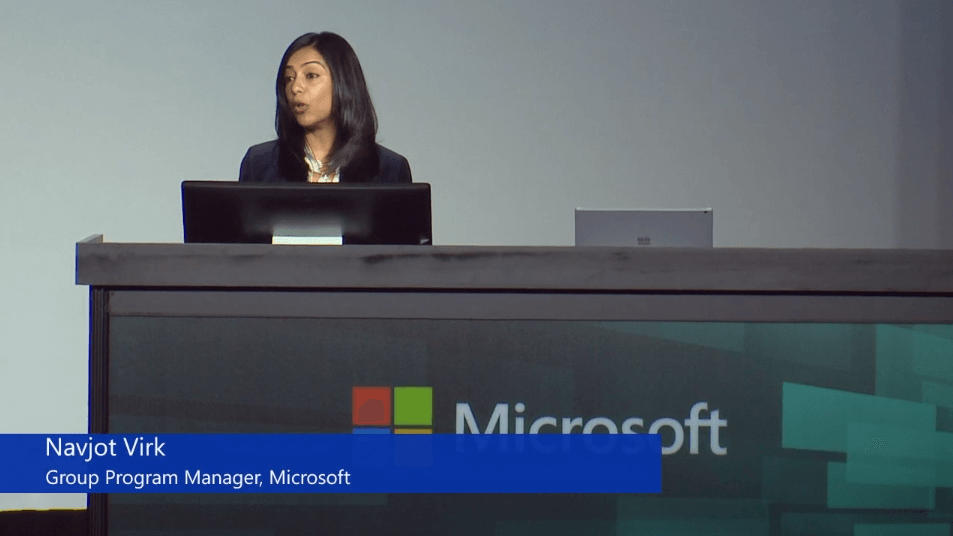 At times it's hard to discern what is new and what's already available, as many of the demos mix both old and new features without specifying this. SharePoint now has support for protecting documents in full collaboration. Opening documents in Office Online and rich Office apps works seamlessly when documents are protected with Labels. This also allows for real-time collaboration with multiple people at the same time.
Upgrading DLP policies are shown, and the interface seems much more refreshed and fluent than when I last used it. Admittedly this was a few months ago. Sharing settings is also shown, site access can now be revoked automatically after a specified number of days for external guests.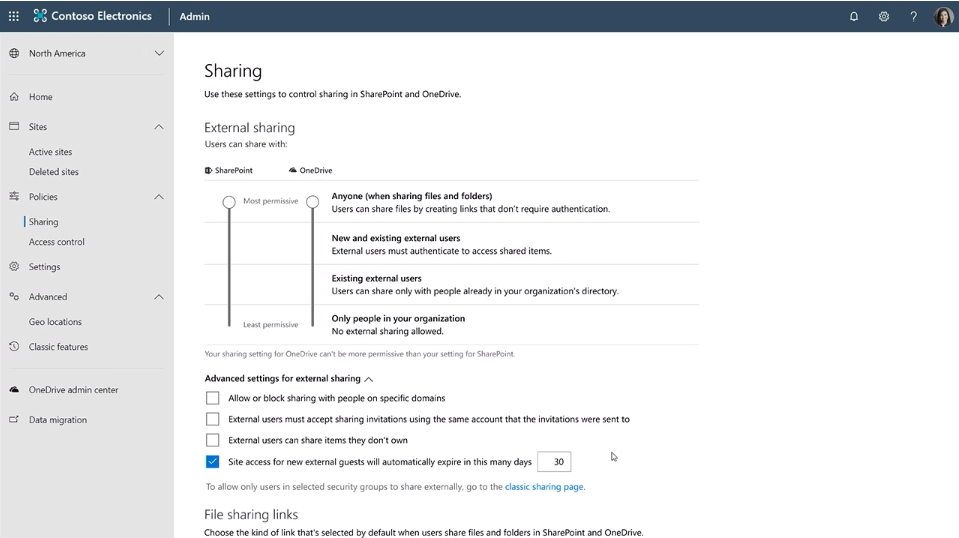 Revoking access to files for external users can now be done per user, instead of per site. SharePoint Modern Admin Center now has full feature parity with the old Classic Admin Center. Bulk edits for sites are also now supported. Site URLs can now be changed – and this is something that has been about ten years in the making so happy to see it finally becoming available! This is done through the SharePoint Admin Site, and together with URL, the name of the site can be updated. Change is immediate, and all old links are automatically redirected to the new site to reflect this change.
Moving on, Jeff Teper back on stage.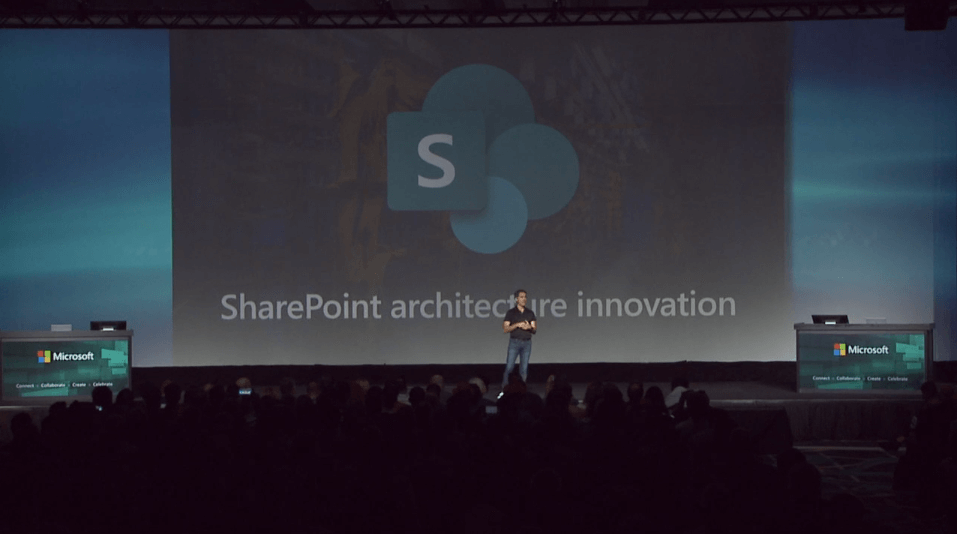 SharePoint's backend architecture has been overhauled – core technologies have been rewritten to anticipate for future scale. SQL storage architecture has been completely redone also. Office client logic for opening files – and especially PowerPoints – has been redone to more quickly open the first few slides when opening presentations.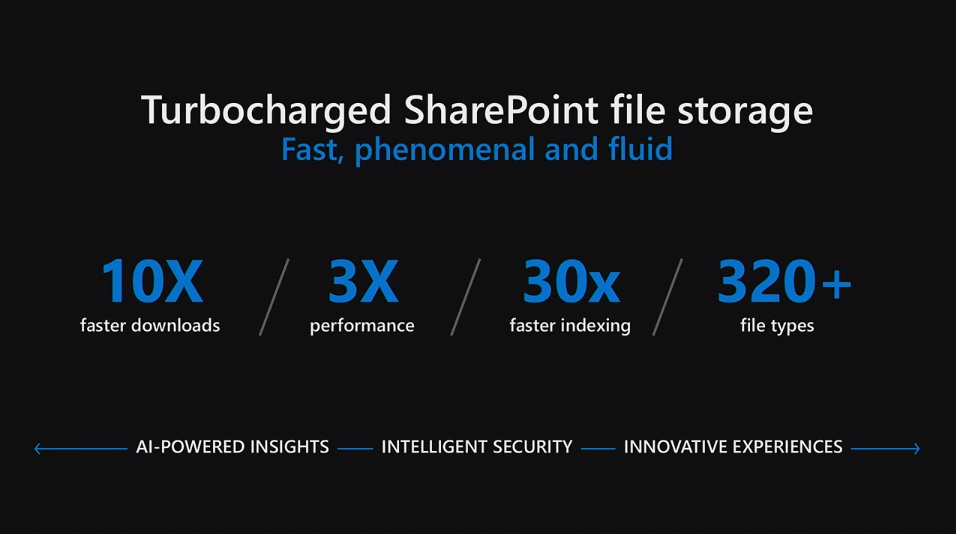 In the future, a new SharePoint storage layer will be introduced. This is called the Fluid Framework, and it was initially announced at Build a few weeks ago (see here for a recap and additional links to Fluid Framework). It's about performance, and I recall more news around Fluid Framework will be made available later this year.
Employee engagement and communication next and SharePoint Look Book is mentioned (see here). A neat feel-good branding video is shown on SharePoint, akin to the Windows Terminal video from Build. You can view this new video here.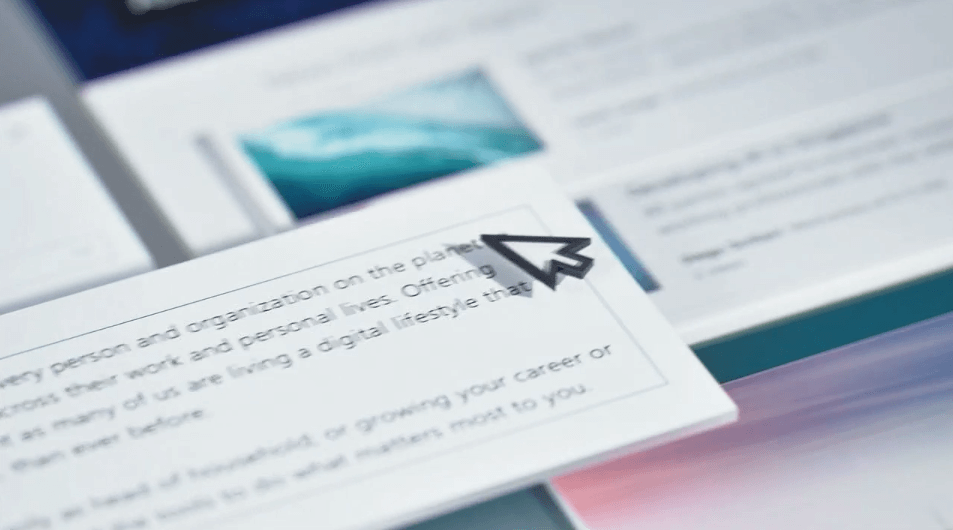 After a brief chat showcasing a customer case, time to move to the Intelligent Intranet.
First, SharePoint Home Sites is announced.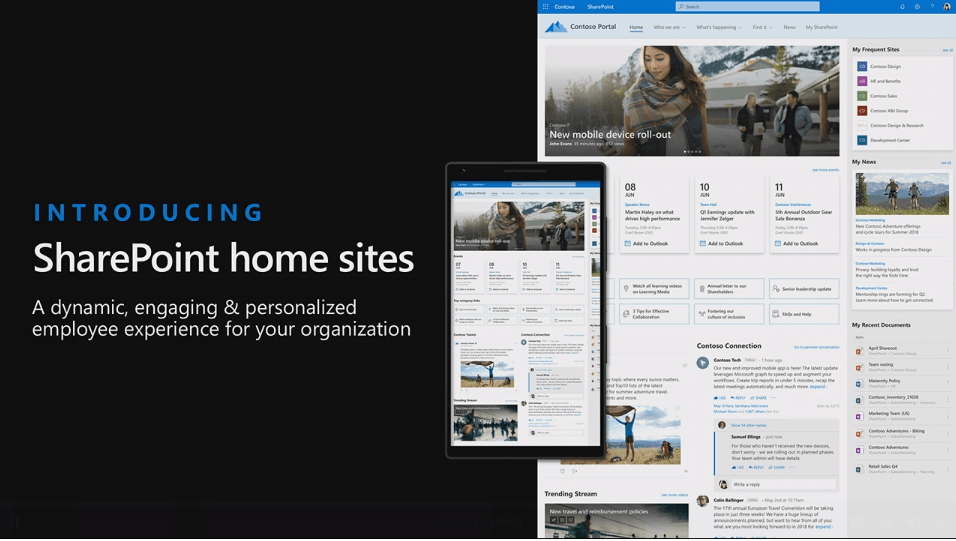 It's a new landing page approach to SharePoint, combining news and content, conversation and video, search and navigation and accessibility – all using multiple devices. I think "Intranet in a box" was also mentioned. See further details about SharePoint Home Sites here.
Brad McCabe (Product Marketing Manager, Microsoft) on stage to demo this next.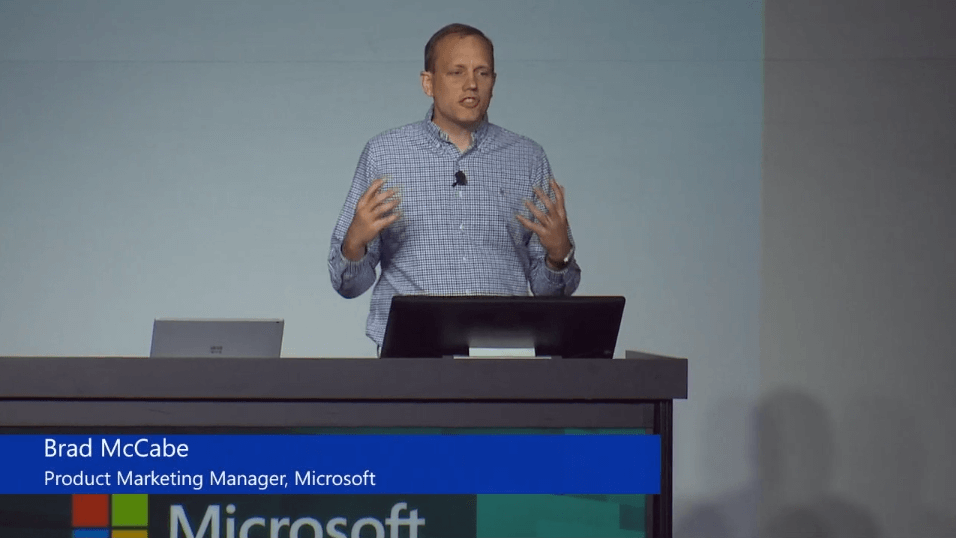 Moving to the next presenter, Christina Torok (Stream Product Marketing Manager, Microsoft).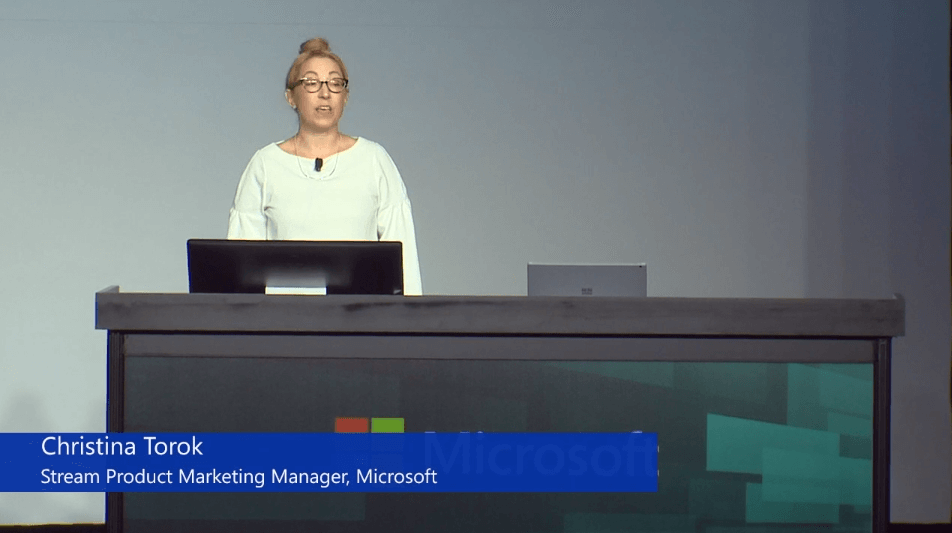 She walks through Stream and how it now connects with Yammer and the Q&A experience (available next month). This is something I recall building a few times for customers on top of SharePoint. Elated to see this available shortly as a built-in capability! Stream mobile app will soon have video recording and sharing is using the native capabilities of the device. Making videos for offline access is also a new feature. Quizzes and forms can also be embedded in to videos directly with Stream.
Mixed Reality is demonstrated using SharePoint, and what I presume is SharePoint Spaces.

Jeff Teper back on stage to talk about SharePoint. A separate session after the keynote is delivered that focuses on SharePoint as a platform (see additional resources at the end of this blog for the announcements on this).

Home site partners are announced and I see many familiar names in this list! 🙂
Finally, Microsoft Search and Content Intelligence. This is the last part of the keynote.
Kerem Yuceturk (Principal Program Manager, Microsoft) to demo Microsoft Search.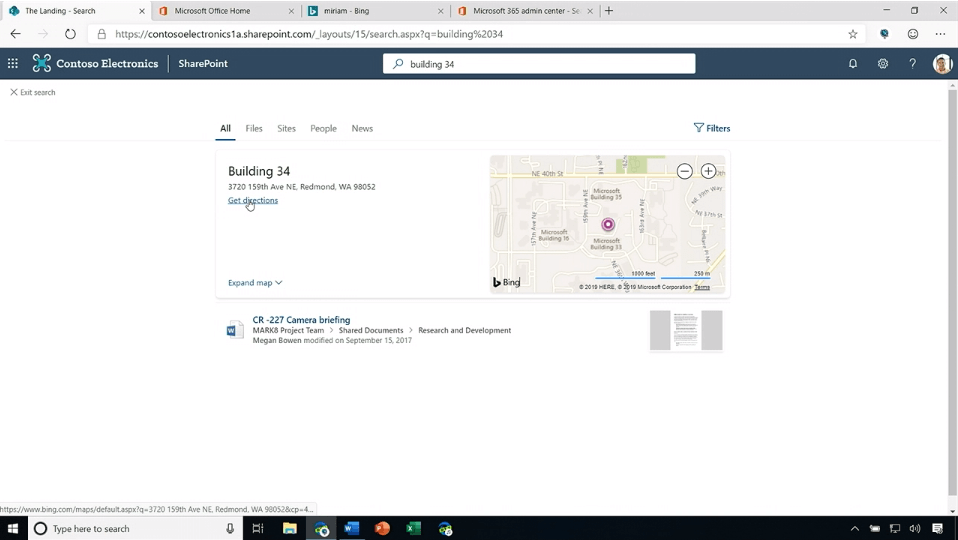 Searching for HR documents, locations and people seems very fluid and easy. I need to test how this works in real life in an intranet with years of content and somewhat lacking metadata. Using Bing to search with Microsoft Search also shows internal search results. SharePoint Search == Microsoft Search.

Searching from Office apps such as Word also provides these rich search results. Microsoft 365 Admin Center will also show search analytics in the future. The usual search customization capabilities such as Display Templates will be supported later also.

Next, Naomi Moneypenny (Director, Content Services & Insights) on stage.

Microsoft Search will search videos in Stream, OneDrive and SharePoint. Conversations are findable in Teams and Yammer, and Microsoft Graph will provide an API for Microsoft Search (currently in private preview). Text is also searchable in image-based PDFs.

Naomi is showing a demo in Word, where Microsoft Search is automatically queried to embed a document or a picture based on content in the doc. External systems are queriable also.
Machine Teaching was briefly mentioned during Build, and it's also mentioned now. For more details on this, see here.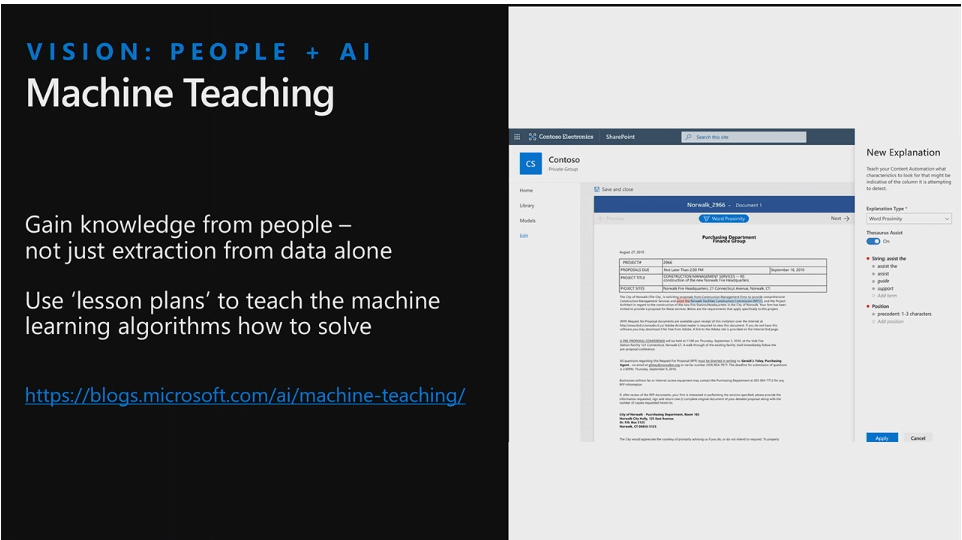 To teach a machine to understand the differences in data, a demo on using Machine Teaching within SharePoint is shown.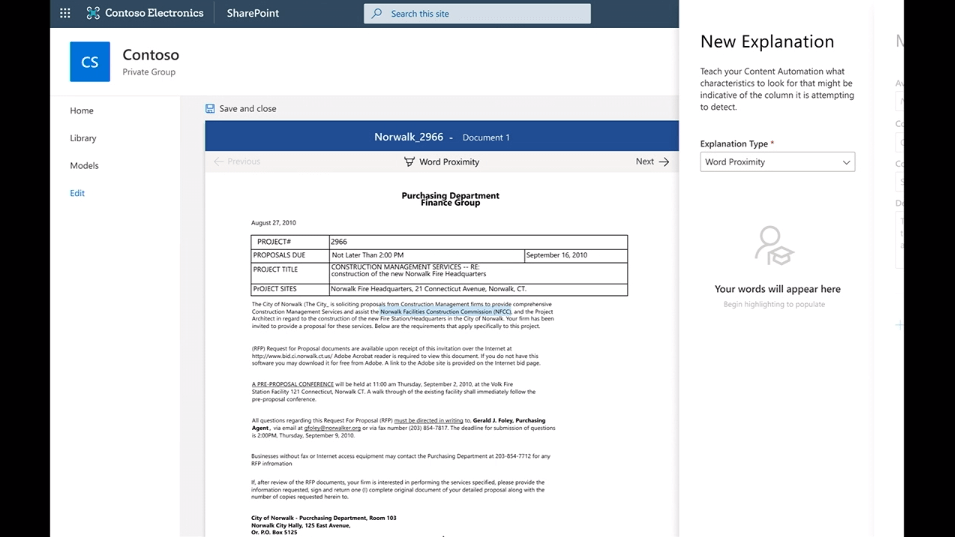 For now it seems more demoware than something that is shipping now.
And Jeff Teper back on stage to close up the keynote. He promises that even more will be shown during Ignite this year.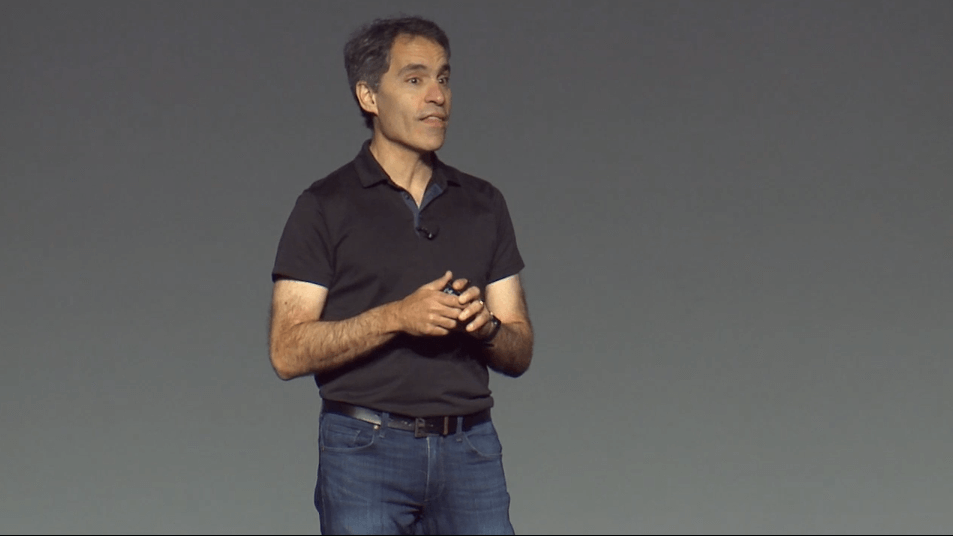 Additional resources
I harvested the following resources while waiting for the keynote to become available and these provide a wealth of technical details and guidance on the new features and capabilities announced.
And that's a wrap!
At 1 hour and 38 minutes, this was a short and fast-paced keynote. I can appreciate that, but at times this made it feel a bit rushed. I couldn't find too much IT Pro or developer content throughout the keynote, and it was mentioned a couple of times that separate sessions focusing on deeper technical topics will be held during the conference.
All in all, I enjoyed recapping this keynote from the comfort of my own home. Still, nothing beats attending a conference in person so if you can, make an effort for Ignite this year!
Watch the keynote
If you happen to be in Las Vegas this week, make sure to stop by the Rencore booth #304 to learn more about how to stay in control of SharePoint and Office 365 growth. And of course, there will be some swag 😉