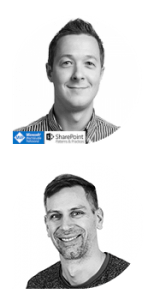 In light of the current situation, we want to increase our free personal development sessions – so keep an eye out for even more webinars in the next weeks and months.
On April 1st, our very own MVP Waldek Mastykarz and host Bjoern Erkens will explain how to stay in control of Office 365 in 2020.
As the adoption of Office 365 continues to rise, it becomes increasingly difficult for you to manage the rapid growth of your tenant. In the end, you give up, facing the inevitable sprawl of inactive teams and groups, unused accounts for external users, and unknown publicly shared content. However, it doesn't need to be like that. There is a way to scale Office 365 governance effectively and stay in control.
Key benefits from attending the webinar:
Hear about the lessons learned from the field.
Take away good practices that help you stay in control of your tenant.
Learn how not to compromise on features or usability.
Join Waldek and Bjoern on the 1st of April from 10 am (EST) / 4 pm (CET) and learn how to manage and govern your tenant on a large scale.

Here's a list of exemplary professionals who have been guest speakers at Rencore: Bill Baer, Vesa Juvonen, Jussi Roine, Spencer Harbar, Chris McNulty, Liam Cleary, Jeremy Thake, Paolo Pialorsi, Nicki Borell, Benjamin Niaulin and Mike Fitzmaurice as well as our very own experts Matthias Einig, Waldek Mastykarz, Hugh Wood and Erwin van Hunen. Feel free to click on their links and re-watch the webinars.