Hello and welcome to our first product feature roundup of 2023 with Rencore, cloud governance leaders, and our multi-award winning Rencore Governance.
We have some big, exciting things coming up on this year's product roadmap – so stay tuned to our monthly product updates and feature highlight series where you will get the latest and greatest product news.
But without further ado, let's get into it with some custom categories, custom automation mail templates, new group relations and more.
Check out our feature update video here!
Custom categories for Checks, Reports and Automations
You can now create custom categories alongside the predefined and often-used ones such as Cost, Security, Adoption, and Operation. Once clicking on the respective prebuilt or customized template, you will be taken to the "Builder". Here you can define your Check, Report, or Automation and select the category dropdown menu. It is here where you can add your custom category and tag it to the template and also use it across other templates.

Custom automation email templates
We want Rencore Governance to fit the style of all your other communications across business, so we are continuously adjusting aspects of our tool to meet that specification. Therefore, we have now added custom email templates for automated actions in the email template builder. You can now customize the header and footer, add logos and signatures, and save them to your email template library.

Expanded mailbox templates
Staying on the subject of email, we have added a new segment that allows you to identify shared mailboxes as well as individual mailboxes. For example, we have the check: show mailboxes which have redirect rules that redirect to external domains. Now that includes shared mailboxes such as customersuccess@rencore.com.

New Relations for entity Groups: Parent Group, Child Groups
This next update is about offering more visibility into user Groups for a deeper understanding of Group structure. How you ask? Well, we have added new relations for our Group entity which allows you to see the member of a specific Group and Child Groups for a more granular understanding. You get this visibility by accessing Objects under Groups in the Inventory.

File export update
Bringing a little more flexibility to data exports, you now have the option to cancel file exports once scheduled. You may find that you have selected one too many or you do not want the export job to complete. You can simply cancel them and start again.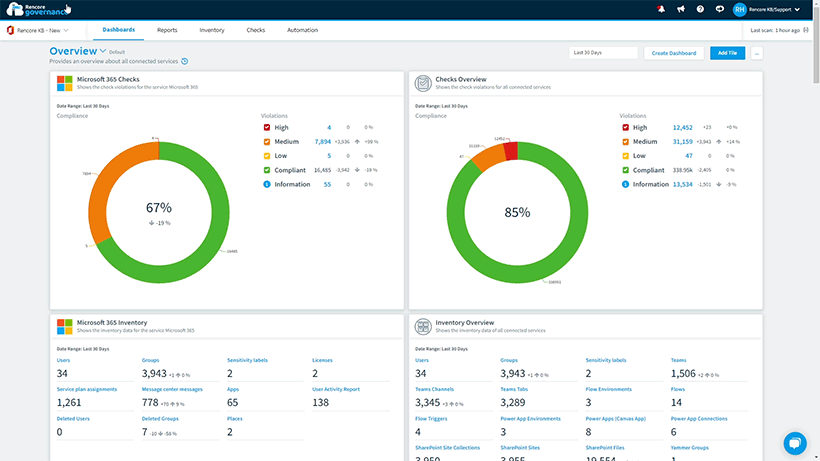 For additional information on our product releases, check the release notes.
Stay tuned
Rencore is growing fast! And it could not be done without all the people associated with Rencore today.
Do you know someone who would like to join our likeminded remote-first team and be part of our cloud collaboration governance journey? Join us and let's keep making governance fun!
Check out our openings on careers page.
Until next time, have an enjoyable day, happy governing and see you next month!