Collaboration is one of the key themes in modern business. For your company to be truly successful, your teams need to be able to work together. Collaboration covers more than one way of working. This includes communication via chat and video call, simplified sharing of files and the use of synchronised cloud documents.
Microsoft 365 provides hugely capable collaboration capabilities in SharePoint and Teams. In this blog we'll explore the two, pit them against each other, and assess how best to use them to unlock greater productivity at your organization.
The state of hybrid collaboration
Since the beginning of the pandemic, collaboration has changed. With the shift to remote working, then to hybrid, seamless digital collaboration has become a necessity.
Over 1 million companies use Microsoft 365, making it one of the most popular collaboration tools in the world. SharePoint and Teams both have wide scope for different uses across industries and departments. While this is a positive for companies that have specific requirements, it does mean that there is often an overlap where each app can be used, leading to misuse and missed opportunities.
What is SharePoint used for?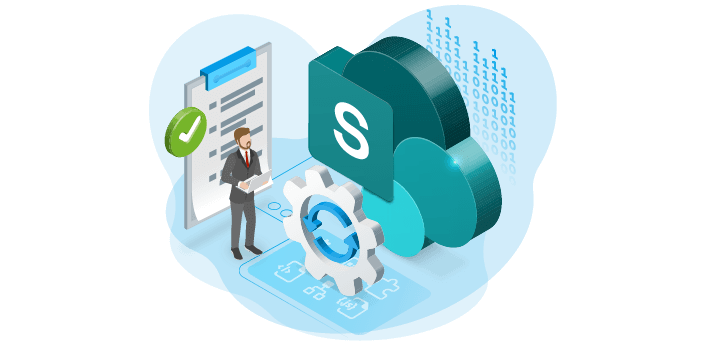 SharePoint is Microsoft's application for storing, sharing, and managing files and documents in the cloud. It allows teams to collaborate on the creation of documents, providing a secure platform with set permissions and the ability to create files with spread ownership.
Like all Microsoft 365 apps, SharePoint is cloud based (on-premise versions of SharePoint are still available), so all you need is a device with internet access. It can be used for joint work on business plans, sales records, HR documents, and more. Documents can be made widely accessible or restricted to set Microsoft 365 accounts.
What is Teams used for?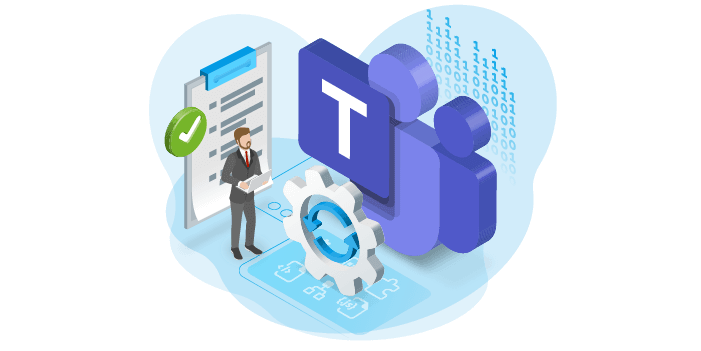 Teams is all about communication. It combines instant messaging with video calls, meeting scheduling, and file sharing to allow for a seamless collaboration experience. Teams' teams feature (slightly confusing, we know) is extremely useful for bringing together employees based on their departments and which projects they are working on together.
It's available across a plethora of devices, allowing for even more flexible hybrid working. The ability to create teams allows for focused conversation around different projects and fast access to documents and calendars when needed.
SharePoint vs Teams – which is better?
So, which is better? The answer: neither. If you're working on files with a colleague, you'd use SharePoint to create shared documents and save them on SharePoint sites. You will be able to decide on the privacy settings and keep things secure while freely sharing files with your collaborators from anywhere with an internet connection.
If you needed to discuss strategy in more detail with a hybrid colleague or bring in an external collaborator, Teams is the better choice. You can privately message a colleague to gauge their availability, then schedule a video meeting and start the discussion. You can also add any documents or action points from the meeting into the meeting instant chat channel.
But these two applications don't exist in contradiction to each other. Much the opposite. They were built to integrate with one another and improve the overall collaboration experience of Microsoft 365.
Pairing Teams with SharePoint for greater collaboration
Teams and SharePoint are two sides of the same coin. SharePoint facilitates the actual collaboration work, the creating, editing, approvals etc. While Teams facilitates the vital communication that's required around the project to keep it on track and to ensure that hybrid teams are all on the same page, if not in the same room.
Here's an example:
You work as an operations manager at a healthcare company. Your team is working on introducing a new business plan. You are working with a hybrid team of executives to get the plan completed and approved against a deadline.
While making last minute adjustments to the plan, you and your collaborators work on the document together in real time, via SharePoint. You can discuss the project via teams and even share other related documents that are saved on SharePoint via your Teams chats.
If something is missing, you can call a quick emergency meeting to resolve the matter (you can also check everyone's schedule to ensure they have time, if you've integrated Outlook calendar). The missing documents, once found, can then be shared in the Teams group, saved to the correct SharePoint site and everything is back on track.
Without easy access to these integrated apps, the scope for missing messages, losing documents, and general inefficient work is much higher.
Keeping your collaboration in order
The ability to share files more easily makes everyone's job easier. But it does also mean more files in more places. This can have unwanted side effects, such as cloud sprawl, file duplication and disorganization.
The best way to keep on top of this issue is with a comprehensive SharePoint governance strategy. Correct governance creates a safer, easier to use, and more effective SharePoint environment, making collaboration fuss free.
I highly recommend reading the following whitepaper: Complete visibility across Microsoft 365. This whitepaper provides a framework built on best practices to help you compile a modern governance strategy to understand SharePoint, Teams and the wider M365 technologies in your Microsoft cloud setup.