As seasons change, there comes a crisp freshness in the air, and at Rencore we want to blow away those summer cobwebs with an eye-opening Enterprise Security & Compliance webinar special. Business is high on the agenda and preventing SharePoint risk is top of that list.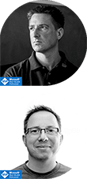 On September 19th, 2018, we welcome Microsoft MVP, Data Security expert and serial author Nicki Borell and our very own 12-time MVP and renowned security expert Liam Cleary to host our Rencore monthly webinar.
They will give a detailed understanding of what Microsoft brings to the table to help you set up a secure and compliant SharePoint environment. Furthermore, they will explain where your organization has to fill in the gaps with other tools and solutions.
In this webinar, Nicki and Liam will cover:
The Microsoft Security story
Microsoft Enterprise Mobility and Security
Security gaps
Join Nicki and Liam on 19th September at 10 am (EDT) / 4:00 pm (CEST)and learn how to keep your SharePoint environment secure.

Here's a list of exemplary professionals who have been guest speakers at Rencore: Bill Baer, Vesa Juvonen, Jussi Roine, Spencer Harbar, Chris McNulty, Liam Cleary, Jeremy Thake, Paolo Pialorsi, Nicki Borell, Benjamin Niaulin and Mike Fitzmaurice as well as our very own experts Matthias Einig, Waldek Mastykarz, Hugh Wood and Erwin van Hunen. Feel free to click on their links and re-watch the webinars.